Clinton Hate Speech Scandal! Hillary Aide Linked To Journal With Anti-Semitic Leanings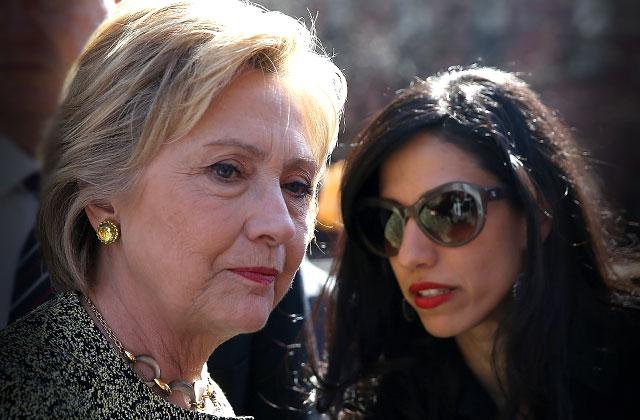 Huma Abedin is causing more trouble for the Hillary Clinton campaign! According to new reports, the Democratic candidate's right-hand woman once helped edit a journal with anti-Semitic leanings!
Abedin, who currently serves as vice-chair on Clinton's 2016 presidential campaign, was listed as an assistant editor of the Journal of Minority Muslim Affairs for 12 years. After being hired to Clinton's staff in 1996 she was still named in the journal as an editor.
Article continues below advertisement
Clinton spokesman Nick Merrill defended Abedin earlier this week, saying, "My understanding is that her name was simply listed on the masthead in that period…She did not play a role in editing at the publication."
But new information about the contents of the journal has critics concerned.
A 1999 article from the journal claimed there were "deep ties between the upper echelons of U.S. politics and pro-Israeli, Jewish-Americans, suggesting that Jewish people have been able to 'work the system' and are 'greatly aided by the American memory of the Holocaust,'" the Daily Mail reported.
Michael W. Suleiman, a professor of Arab studies at Kansas State University who passed away in 2010, wrote the article and alleged that "Jewish Americans have had a distinct advantage over Muslims and Arabs in the US in that they are better organized, more committed, more united, and generally far better adept at working the American political system of presidential democracy."
Abedin's mother, Saleha Mahmood Abedin currently serves as the journal's editor-in-chief, while her brother, Hassan, is an associate editor and her sister, Heba, is an assistant editor.
Article continues below advertisement
Another piece in the journal blamed U.S. for the 9/11 attacks. Abedin's mother wrote in 2001, "As incomprehensible as it may seem to the common observer, something catastrophic seemed to loom on the horizon for the watchers of the world scene…This was further intensified by the demographic and socio-economic pressures that came with their own set of factors promoting social and political instability and, at the individual level, anger, frustration and a sense of deprivation. 'It was a time bomb that had to explode and explode it did on September 11."