Jodi On The Loose? Arias Pal Reveals Secrets Of Her Appeal!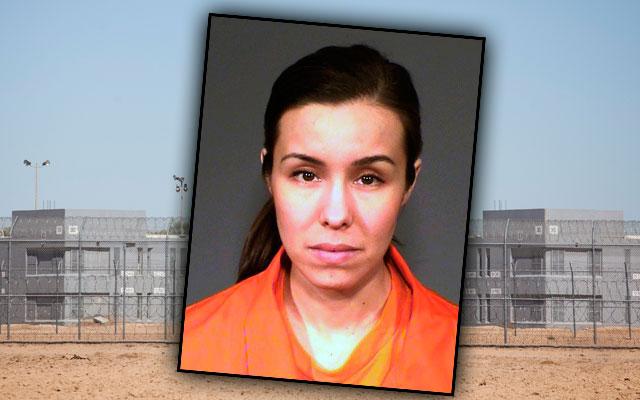 As Jodi Arias sits behind bars buying Beano, her personal private investigator is working hard to help with her appeal, RadarOnline.com has exclusively learned.
Dorian Bond, the owner of Bond Investigations was hired by the woman who slaughtered Travis Alexander and he revealed his shocking interactions with the convicted killer since her incarceration.
"I was hired maybe two years ago," he told RadarOnline.com, but said he has been unable to visit her since she was moved from the Estrella Jail to the Perryville Prison in Arizona.
Article continues below advertisement
Bond assured RadarOnline.com that his efforts are "not to get her out of jail," but to help prove that her attorney, L. Kirk Nurmi did not provide an adequate defense.
In his book, Trapped With Ms. Arias, Nurmi wrote that his client tried to turn on the charm with him and Bond told RadarOnline.com he experienced her sexual aggression as well.
"She has a very flirtatious personality," Bond told RadarOnline.com. "She's very engaging. She would be a great politician if she didn't do what she did."
"She's very engaging. She's very beautiful. When she talks, she looks you in the eye and she brings you into her world," he said. "When you meet her in person she's very engaging. She's almost like a Bill Clinton, who makes you feel like you're the only person in the room. She has that personality trait."
However, unlike Nurmi, who said that Arias described her vaginal grooming habits to him, Bond told RadarOnline.com that she never made sexually inappropriate remarks.
Article continues below advertisement
"She was very polite, she always asked about my daughter," he claimed. "It was nothing sexual."
Meanwhile, Bond told RadarOnline.com he was not surprised to learn that she had committed a disciplinary infraction behind bars.
"No, she likes to take on other people's problems," he insisted. "If you're locked in a box all day long and somebody says something to you, you're just going to express yourself. I'm not surprised; she engages people."
Bond expanded on the reason that he was hired by Arias despite her admission of killing Alexander and a jury finding her guilty of first-degree murder.
"I can't talk about a lot of what we talk about legally, but as everybody knows she was unhappy with Kirk Nurmi," he said. "She loved Jennifer Willmot, loved Maria de la Rose. She just had a major problem with Kirk. Kirk took major advantage of everything he could on her case. He's writing two or three books. She was unhappy with him. She felt like she should have been afforded an attorney that was for her."
Bond told RadarOnline.com that he was paid an initial retainer fee, but has not received any money from the alleged money that is being raised for Arias's appeal.
Do you think Bond will be able to dig up any evidence that will get Jodi Arias' conviction overturned? Sound off in comments below.