Prison Crackdown! Jodi Arias Cell 'Tossed' By Guards With Dogs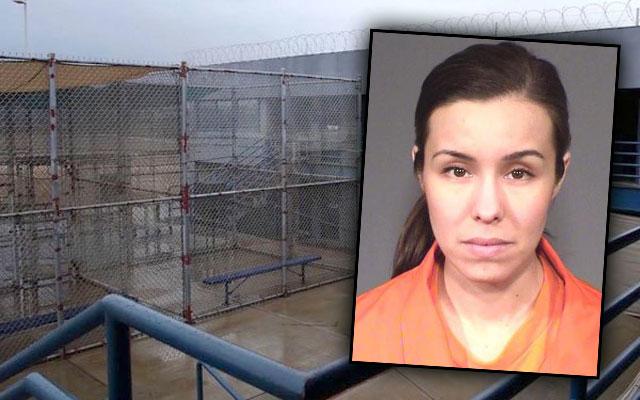 Jodi Arias' life behind bars has taken a turn for the worse ever since she was busted calling a guard an X-rated word. She lost her contact visit privileges after the incident, and now, RadarOnline.com has exclusively confirmed that her cell is being frequently searched by guards using dogs!
Travis Alexander's convicted killer is serving a life sentence at the Perryville Prison in Arizona and according to a fellow inmate her room is "tossed all the time," by officers looking for contraband.
Article continues below advertisement
Forde continued, "And they shook the entire c-pod with dogs and we each had to walk through the metal detector. As Jodi was up front they tossed her room looking for a cell phone, of course if they would have checked their phone system 1st they would have saved themselves a lot of trouble knowing the call came from DOC!"
The Public Information Officer at the Arizona Department of Corrections confirmed to RadarOnline.com that Arias' cell is indeed searched by guards with dogs trained to aid in the search.
Article continues below advertisement
"Cell searches are common practice for any inmate in any prison," the rep said.
As RadarOnline.com exclusively reported, Arias was found guilty of a "Disciplinary Violation" on February 9, 2016 after calling an office a "c**k blocker." She had her "contact visit privileges" revoked for 180 days as punishment by the prison.
Forde, who penned her later after Arias committed the infraction but before her punishment was handed out, also claims in her letter that she believes Arias is responsible for her increased scrutiny.
"So now her room is tossed all the time and it is harassment and I hate being next to someone that is targeted but hopefully she will learn to use better judgment with Public and DOC," Forde wrote.
Forde, who is on death row for her part in the murders of Raul Flores, Jr. and his 9-year-old daughter, Brisenia, described her thoughts on Arias.
"As far as inmates go Jodi is a good inmate," she wrote. "She is quiet and respectful at all times and the prison is filled with murderers even worse in nature then (sic) Jodi Arias."
Article continues below advertisement
While Arias escaped the death penalty when two juries could not come to a unanimous decision about her fate, Forde writes that her situation is still incredibly challenging.
"I want to assure all of you a life sentence is way worse than a death sentence," she claimed. "Conditions and treatment is for animals … she is not given the same opportunities that other lifers are given and she is under a microscope."
Forde also detailed what she believes are the privileges Arias is receiving.
"I can't get legal calls do to 'inconvience' (sic) but Jodi can get back to back legal calls in one day, or we have been trying for months to talk to the warden Jodi goes viral and gets a one on one so that special treatment does irritate me," she said in the rambling note.
But the prison PIO told RadarOnline.com that Ford's perception of Arias are incorrect: "That inmate is treated the same as every one of the more than 42.000 inmates in the Arizona Department of Corrections."
Listen to the call that sparked Arias's latest "ordeal!"