Fellow Inmate Speaks: Jodi Arias 'Concerned' About Admitting 'Fog' Lifted During Murder –– She's 'Docile' With Crooked Teeth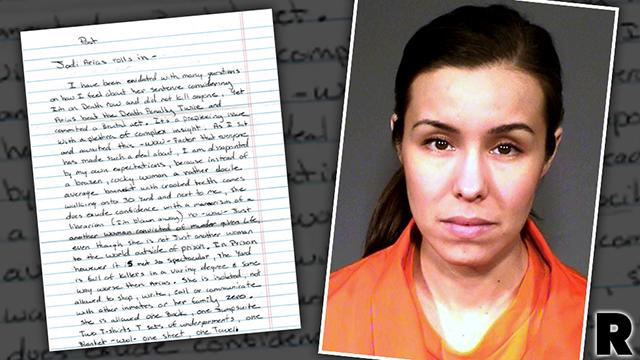 A fellow inmate of Jodi Arias has released a letter bringing the public up to speed on the murderer whose trial captivated the nation.
Convicted killer Shawna Forde, also serving her sentence at the Perryville Prison in Arizona, posted a two-page hand-written letter on her Facebook page and expressed her thoughts on the way Travis Alexander's killer is adjusting to the harsh reality of her incarceration.
Article continues below advertisement
"Jodi Arias is going to be my vent partner," the woman wrote. Forde was found guilty for her part in the murders of Raul Flores, Jr. and his 9-year-old daughter, Brisenia.
"I am disappointed by my own expectations, because instead of a brazen, confident woman, a rather docile average brunette with crooked teeth comes walking onto 30 Yard and next to me," Forde writes about the 34-year-old who shot Alexander, stabbed him and slit his throat.
"She does exude confidence with a mannerism of a librarian (I'm blown away!) no -wow- just another woman convicted of murder given life even though she is not just another woman to the world outside of prison."
While Arias released a letter to her supporters, stating that she was enjoying her freshly painted cell and the "gofers" that roam the property, Forde described a "not so spectacular" life in the prion.
Article continues below advertisement
"She is isolated. Not allowed to shop, write, or call or communicate with other inmates or her family zero."
Unlike the Estrella Jail where Arias had free reign of the commissary to purchase necessities, Forde claims that she is limited in her belongings now, with "one book, one jumpsuit, two T-shirts…underpants… one blanket one sheet one towel."
During her sentencing, Arias shocked the courtroom when she revealed that her "fog" had lifted and she did remember killing Alexander, saying that he was alive when she slit his throat, and Forde said they spoke about that and Arias is worried that her admission could affect her appeal.
"What I found interesting is she seemed concerned about how her closing statement at sentencing came across and I was very honest and told her it was insensitive, diabolical and showed that she lied to by remembering some of her act."
Expressing sympathy for Travis' relatives, Forde writes: "I feel that a life sentence was a blessing for the Alexander family," so that they would not have to participate in her endless appeals had she been given a death sentence.
Forde said that she will answer any questions about Arias in future letters.
What do you think about Arias' new life? Sound off in comments below.