Still Talking Sex! Jodi Arias Busted For X-Rated Rant Against Guard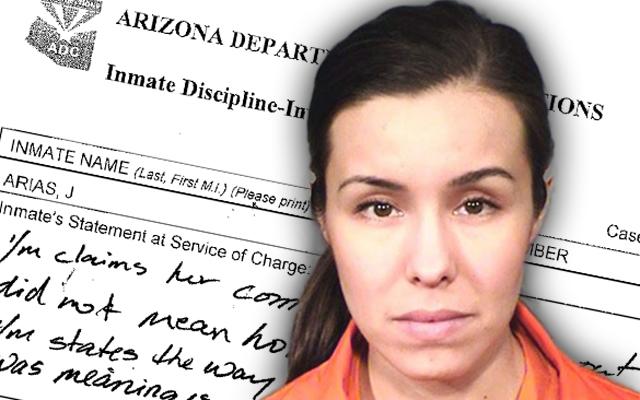 Jodi Arias is still X-rated, even behind bars! The notorious sexting killer was so vulgar to a prison guard that she was found guilty of a "disciplinary violation" and lost her "contact visit privileges," RadarOnline.com has learned.
Travis Alexander's killer, who is serving a life sentence in the Perryville Prison in Arizona, was caught on tape during her trial using lewd sexually explicit language, but when she was accused of doing so behind bars she claimed that she didn't know the true meaning of the word.
Article continues below advertisement
"Inmate Arias admitted to me that she called me a 'c*ck blocker,'" a guard states in the Inmate Disciplinary Report obtained by RadarOnline.com. She made the comment on February 3, 2016.
READ THE SHOCKING COURT DOCUMENTS
There was a disciplinary hearing held on February 9 and, just as she did on the stand during her trial testimony, she denied that she was responsible for the meaning of her words.
"Inmate claims her comments were taken out of context and did not mean how it was perceived. Inmate claims the way 'c*ck block' was written is not the way she was meaning is spelled sic."
The report explains Arias's defense and then the verdict the prison rendered: "Inmate claims she hears other inmates talk that way all the time and figured it was okay. Inmate was advised that conduct was not to be expected and she should act on her own not how others do. Based on her comfort level of making statements that are inappropriate while staff and other inmates are around about an administrator she is guilty."
Article continues below advertisement
According to the documents, Arias's infraction began after a guard denied her permission to obtain a haircut.
"On the above date and approximate time COIII stated that inmate Arias had requested a haircut from our programs porter. I told him no since she is not assigned as the barber for the yard. Inmate Arias was in programs to do a legal phone call," the documents state.
"Redacted told inmate Arias I said no and she then stated to him 'l knew she would say no. She's a c*ck blocker.' After inmate Arias legal call was complete I asked her what exactly she said to Redacted. At first she did not want to admit what she said but then finally admitted to calling me a 'c*ck blocker.' I explained to her that her statement was completely inappropriate and could be taken as a sexual reference. She told me that she did not know that word to mean anything sexual and I could look up the phrase on urban dictionary because that would show it means to 'stonewall someone.'"
The Arizona Department of Corrections told RadarOnline.com exclusively that she received a punishment for the violation. "As a result of the misconduct noted, the inmate lost contact visit privileges and will have to demonstrate at least 180 days of good behavior in order to be considered for restoration of this privilege," the Public Information Officer said.
What do you think about Jodi's misconduct behind bars? Sound off in comments below.