Jodi Arias' Prison Rap Sheet Reveals She Attacked Her Cell Mate And Claimed Self Defense!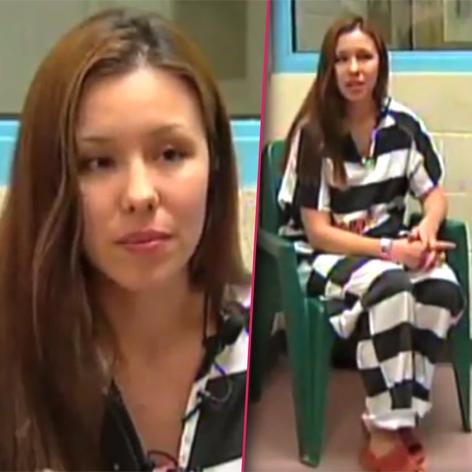 "Self defense" is a term Jodi Arias seems to be very familiar with - as RadarOnline.com has learned that the notorious murder defendant has used the excuse to try and wriggle out of even more trouble that she's gotten into from behind bars since brutally butchering Travis Alexander.
According to a discipline report obtained by HLN, the 32-year-old femme fatale was embroiled in a fight with her cell mate at the Estrella Jail in Phoenix, Arizona, on July 27, 2009, and when the pair was eventually separated and questioned over the incident, Jodi claimed she was acting in self defense and simply protecting herself from the aggressor.
Article continues below advertisement
During the altercation the fellow inmate pushed Jodi against a wall and then kicked her, according to prison records.
The story sounds eerily similar to Jodi's repeated claims of abuse at the hands of both former boyfriend Travis and her parents, Sandy and William Arias, which she has detailed extensively - and often tearfully - on the stand during her ongoing testimony.
Also on the rap sheet built up during the four-and-a-half years that she has been awaiting trial are bizarre violations of prison policy such as hiding pens under her sink in May 2009, possessing 19 unauthorized pictures in January 2010, disobeying her instructor, possessing unauthorized creams - including anti-itch, anti-fungal and acne lotion – and the discovery of even more pens in shampoo bottles and under her bunk.
However, while she has certainly not been following the rule book to the letter, Arias hasn't excessively misbehaved during her time as a ward of the Maricopa County Jail system.
"I wouldn't call her a model inmate, she is just a regular inmate doing her time," Sergeant Brandon Jacobs of the Maricopa County Sheriff's Office told HLN. "She is not disruptive.
"Other than when she is in the courtroom, she is a maximum general population inmate, which means she even lives with other inmates," he explained.
Article continues below advertisement
Despite the violent altercation with her cellmate, "Some of the inmates like her - everyone has enemies and everyone has friends and in jail it is the same scenario," revealed Sergeant Jacobs.
Arias will be back in court on Thursday as her defense team continue to fight for her life during the murder trial in which she faces the possibility of execution if found guilty - stay with RadarOnline.com for regular updates and daily live-streaming.
radar_embed service=5min.com src="http://pshared.5min.com/Scripts/PlayerSeed.js?sid=1126&width=570&height=351&playList=517732944&sequential=1&shuffle=0"