Escape From Alcatraz! 7 Things You Didn't Know About The Prison Rock 50 Years Later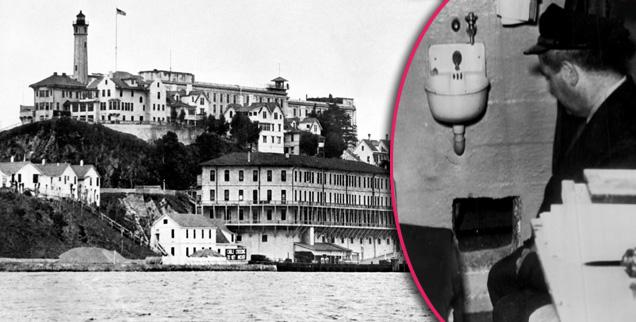 Even 50 years after the final inmate left the most infamous prison in the world, Alcatraz Island in the San Francisco Bay still has a dark allure to thousands of tourists every year.
Once home to the most notorious criminals in history including Al Capone, Robert "Birdman of Alcatraz" Stroud, George "Machine Gun" Kelly and James "Whitey" Bulger, the maximum security federal penitentiary finally closed its steel doors on March 21, 1963, after 29 years of being every convicts' worst nightmare, and in celebration of the anniversary RadarOnline.com is presenting seven things you didn't know about Alcatraz.
Article continues below advertisement
7. Long before it was used to house the scum of the earth, Alcatraz was still considered to be an "evil island" by Native Americans who believed it was cursed. For many years it was home only to flocks of pelicans and the rocky land's current name came from "La Isla de los Alcatraces," which translates as "The Island of the Pelicans," from the archaic Spanish word alcatraz for the sea bird.
6. After California was officially acquired by the United States following the Mexican-American war in 1848 on the eve of the Gold Rush, the US Army began considering it as a military stronghold and the first fortress was built there 10 years later. The desolate island became a "heavily fortified military site on the West Coast," and later housed Confederate sympathizers and privateers during the Civil War because the cold, strong, hazardous currents of the San Francisco Bay created a terrifyingly isolated enclave.
5. The United States Disciplinary Barracks on Alcatraz was acquired by the Department of Justice in October 12, 1933 and the first batch of 137 handcuffed and shackled prisoners arrived via high security coaches on August 11, 1934. Watching over some of the worst hoodlums America had ever known, the guards were seen as "iron men" and lived full time on the island with their families just 1.5 miles offshore from San Francisco.
Article continues below advertisement
4. Despite 14 escape attempts by 36 prisoners (two of which tried twice!), the penitentiary claims none was successful. A total of 23 were caught, six were shot and killed during their escape, two drowned, and five are listed as "missing and presumed drowned" - although popular legends suggest some may have made it dry land and ended up partying in the city.
3. In December 16, 1962, convicted bank robber John Paul Scott became the only escapee to definitely manage to swim to shore after his escape, only to be arrested by the Presidio police and returned to his cell. After surviving the 46 degree Fahrenheit December water and 10 knot current, along with myths of "man-eating" sharks and razor-sharp rocks," he was found unconscious from hypothermia by four teenagers who turned him over.
2. One of The Rock's most notorious residents was famous not for his crime – but how he whiled away the hours. After being sent to jail in Alaska for manslaughter, Robert Stroud aka "The Birdman of Alcatraz" murdered a fellow prisoner behind bars and was shunted to Alcatraz, where the diagnosed psychopath spent his time raising sparrows and canaries, and even writing two books on the bird diseases.
Despite being the most notorious gangster of the Prohibition era, Al Capone's storied career was finally ended with a conviction for tax evasion, not murder, but the white collar crime still didn't stop him being sent to Alcatraz on August 11, 1934. Prison life did not agree with the former syndicate leader, who was threatened with a pair of barber's scissors by one angry inmate and spent the last year of his sentence in the prison hospital, confused and disoriented from the affects of syphilis. He was paroled on November 16, 1939, and died from a cardiac arrest at his Florida home in 1947.