Exclusive
Al Capone 'Didn't Deserve To Go To Alcatraz,' Says Closest Surviving Relative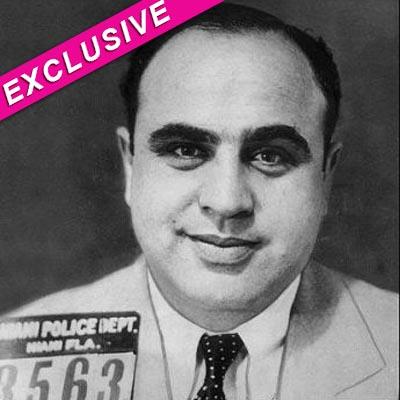 Notorious gangster Al Capone is known as the most infamous criminals of the 1920s, but his closest living relative says he didn't deserve being sent to Alcatraz, the harshest prison in the country with the most despicable criminals.
"He was the King of Chicago," Al's great-grand niece, Deirdre Marie Capone told RadarOnline.com in an exclusive interview.
"He was convicted of tax evasion and sent there when he was 35. He should never have been there (Alcatraz) because it was a white collar crime. He got out at 40 and died at 48 of a stroke.
Article continues below advertisement
"Al Capone didn't do anything different to JFK, Rockefeller or Ford. They were all immigrants, this was the prohibition era and the jazz age and everyone wanted alcohol, but there was a group of businessmen who wanted to take him down because he was Italian, and he paid for it."
Deirdre, author of the book, Uncle Al Capone: The Untold Story From Inside His Family, was just seven when her famous relative died, but she has fond memories that contradict the Hollywood image portrayed of him.
"My earliest memory is when I was four years old and we went to pick dandelions together. Al and his mom were sitting on bench, I climbed the apple tree and fell out and had the wind knocked out of me.
"Uncle Al came over and picked me up with a cigar in his mouth and put me on his shoulder and rubbed me until I got my breath back," she told Radar, recollecting the tender embrace.
"He had a great sense of humor and loved practical jokes," she revealed.
Article continues below advertisement
While Capone is considered the biggest criminal of the prohibition era, Deirdre said he isn't guilty of a lot of the murders he's accused of.
"It is all alleged, there is nothing proven. My father (Al's brother, Ralph), assured me no innocent person was killed inside their business.
"It was a lawless are, like the wild west," she explained.
"I was aware of the business," said Deirdre, who was just a child at the time. "But to me that was providing liquor, gambling establishments and houses of prostitution. They are all legal somewhere today, and were all things people wanted."
Capone goes on to admit that some blood was found on her relative's hands.
"I can't say he was a saint. Did people reach their demises? Yes," Deirdre admitted.
"I know of one time my grandfather called the 'Baseball Incident,'" she revealed.
"There were two guys that worked for Al who went behind the scenes and tried to get the chef to poison his food because someone put a $500,000 bounty on his head.
Article continues below advertisement
"When Al found out, he turned to my granddad and said, 'I think we should have a little party,' when they attended they didn't leave..."
The unfortunate victims were then beaten to death with baseball bats by Al and Ralph Capone, and some of their associates.
The most famous incident credited to Uncle Al is the Valentine's Day Massacre of 1929, which Deirdre claims was set up to make it look like Capone people did it, and none of his men were involved.
While she has fond memories of her relative, Capone's descendant does admit that he could be a force to be reckoned with.
"He was a strong, tough businessmen. I saw him change persona more than once when some of his colleagues would turn up and his face would change," she told Radar.
"The Capone men all had a temper, when they got angry they would yell. It was a like a lowland gorilla. When they raised their voices like that I got scared," she admitted.