Jodi Arias' Shocking Prison Shopping List Revealed — Sex Toys, Zit Cream & Beano!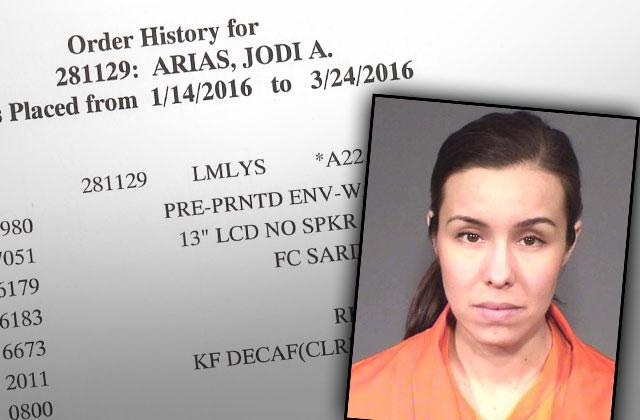 Nearly one year after Jodi Arias was sentenced to life in prison, RadarOnline.com has obtained an exclusive glimpse inside her sad and lonely life. A list of commissary purchases made by the killer over the past few months reveals never-before-told secrets of what she's been up to behind bars.
Arias is spending life in prison without the possibility of parole at the Perryville Prison in Arizona for the brutal murder of her ex-boyfriend Travis Alexander. And even though she was too broke to afford an attorney during her trials, she has been shopping up a storm in recent weeks.
Article continues below advertisement
According to an analysis of the 1/14/2016 to 3/24/2016 Order History for Arias, Inmate #281129, she gets a weekly batch of goods from the commissary. Her order is consistent, and at times bizarre, featuring food, odds and ends., and humiliating personal hygiene products.
READ The Shocking Shopping List
Arias stabbed Alexander 29 times and slit his throat from ear to ear, but the knife she used was never found. In prison, she has only been able to obtain a rotary shaver, which she purchased on January 21, 2016.
Fellow felon Teresa Giudice claimed that during her own prison stint, she discovered that inmates used toothbrushes as sex toys. Arias purchased 10 "antishank toothbrushes" in three months, the documents reveal. Is she practicing good hygiene or getting off? She never purchased toothpaste, according to the list.
Arias also purchased Tinactcin on February 4, 2016, which is used to treat athlete's foot, and acne medicine the same day. She purchased both items again a week later. She also bought Tucks medicated pads and Neutrogena acne soap.
Article continues below advertisement
As RadarOnline.com reported, Arias was found in violation of prison rules after an incident on February 3, 2016 where she asked a guard to give her a haircut but when she was denied she called the guard a "c**k blocker." As RadarOnline.com exclusively reported, on February 9, 2016 she was punished with six months of no contact visits. She purchased a "pocket dictionary" on February 4, 2016, perhaps hoping to brush up on her vocabulary.
Arias shops extensively for her problem hair – buying dandruff shampoo as well as Palmers conditioner olive oil, vitamin E rich conditioner and daily clarifying shampoo. She is trying to smell better too, purchasing deodorant and "complete beauty lotion."
Also helping her scent, Arias purchased Beano, which treats gas problems.
One possible reason for her stomach issues? Arias has been known to stock up on black beans, the documents state. Adding to her personal kitchen, Arias buys sardines in oil, salmon flakes, clams, imitation bacon bits, tortilla chips, pistachio kernels, smoked almonds, and mayonnaise, on a weekly basis. She also treats herself to popcorn, protein bars and vitamin C too.
Article continues below advertisement
Slammed for selling her artwork prior to her conviction, Arias is continuing her drawing behind bars, purchasing colored pencils, an eraser, and an 8 1/2 X 11 letter pad. So far, her artwork has not been seen publicly since her conviction.
Her extensive letter writing also is made possible by her purchases. She bought pre-printed envelopes, manila envelopes, Christmas cards (in January), season greetings cards, stamped postcards and Valentine's Day cards all in the first three months of the year.
Arias is also updating her prison wardrobe, buying "small sweat pants, an orange knit hat, and deluxe tube socks (white.)."
Who do you think is funding Arias' prison commissary shopping sprees? Sound off in the comments below.