Joyce Giraud & Husband SLAM 'Mean' Brandi Glanville: 'This Train Is Going To Derail Again!'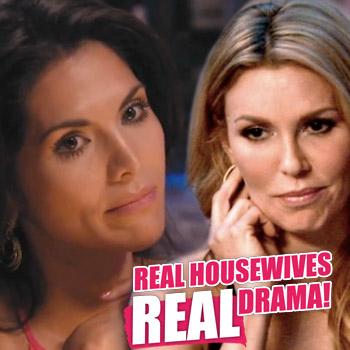 Article continues below advertisement
But Giraud simply doesn't agree.
"I would love to get to know that person," a circumspect Giraud told Foster.
Giraud, a two-time Miss Puerto Rico, was still reeling after Glanville made bigoted remarks about her native heritage.
What's more, an obnoxious Glanville kept calling her by the wrong name during their trip to Palm Springs!
"Yolanda, if she was calling you whatever name you tell her, 'That name is what they would call me in high school and I was bullied for it, please don't repeat it,' and she kept repeating it, I don't think you would have the relationship that you have now," Giraud charged in a back-and-forth discussion.
"Don't tell me that she has a great heart because to me, she hasn't shown that great heart!"
Unable to muster a defense, Foster agreed that Glanville often cannot control what comes out of her mouth.
"I can see where Joyce is coming from," Foster said in her own commentary to the 90210 cameras.
"I can't control what comes out of Brandi's mouth. Even though I don't agree with it, I don't condone it, I will say something about it when it's the appropriate time."
Article continues below advertisement
Still, even though Foster acknowledged that Eddie Cibrian's ex-wife needs to change, she implored her new costar to "take our advice" and just accept Glanville for who she is.
"I think you need to advise her and give her some elegance," Giraud said.
Responded Foster, "She's proven to me that she's authentic and a loyal friend and that she's an honest person."
One person she couldn't persuade, though: Giraud's husband Michael.
"As much as you think she's authentic, I've seen a genuine, authentic mean person!" he said.
He added, "I think what they witnessed is a train wreck and they all know that this train is going to derail again."