Yolanda Foster 'Isn't Genuine,' Kyle Richards Vents After 'Mean' Co-Stars Push Her 'Over The Edge'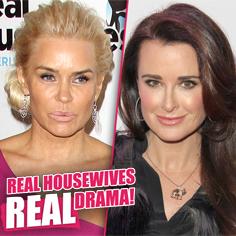 On Monday night's episode of the Real Housewives Of Beverly Hills, Kyle Richards broke down after a heated argument with Yolanda Foster — and their catfight is far from over, RadarOnline.com has learned.
"In hindsight, a part of me is mad at myself for being so quick to want to fix things with Lisa Vanderpump and Yolanda that night. It's clear that Yolanda wasn't genuine from her interview comments saying she doesn't have time for Kim and my antics," Richards wrote on her Bravo blog.
Article continues below advertisement
"Yolanda contradicts herself nonstop. She does talk a good game though. If only her actions matched her words."
During the episode, Richards – who had been dealing with her husband Mauricio Umansky's alleged cheating rumors – broke down, but later admitted to Foster: "Your problems are bigger than mine. You've been sick."
"Please don't cry," Foster, who is battling Lyme disease, said while hugging her co-star. "Let's move forward."
But her tune quickly changed. "I'm battling for my life… not for Kim and Kyle and their little antics," David Foster's wife told the cameras.
Richards continued to vent about the drama, blaming her RHOBH co-stars for her on-air meltdown.
"I had been so stressed with everything going on that all the negativity with the women was proving to be too much for me," she wrote.
"Lisa kept saying I was upset about what going on (meaning the tabloids), but it wasn't just that. The mean behavior of this group of women is what sent me over the edge that night."