Real Life Scandal! Love Rat Congressman Caught Kissing Staffer; Woman Taken Off The Payroll After Smooching Video Goes Viral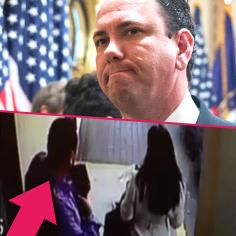 Another political sex scandal is brewing in the Bayou, as Congressman Vance McAllister, R-Swartz, is knee-deep in embarrassment after he was caught on camera smooching with a married staffer named Melissa Anne Hixon Peacock.
Peacock, 33, was "taken off the congressman's payroll" this week, according to the congressman's chief of staff Adam Terry, after the Dec. 23 video surfaced when an anonymous source sent it to a local paper, according to The Ouachita Citizen.
Article continues below advertisement
The politician -- who had been wed to wife Kelly for 16 years, and has five children with her -- has taken to groveling in the wake of the reveal, saying, "There's no doubt I've fallen short and I'm asking for forgiveness.
Cheating, Gay Lovers, Incest, Drugs & Lip Synching! 50 Of Hollywood's Juiciest Confessions
"I'm asking for forgiveness from God, my wife, my kids, my staff, and my constituents who elected me to serve. Trust is something I know has to be earned whether you're a husband, a father, or a congressman.
Watch the video on RadarOnline.com
We'll keep you updated on the latest in this story, right here on Radar.