Hide The Cigars! President Bill Clinton Snapped With Pair Of Prostitutes, Tells Them He Always Has 'Time For Pretty Girls!'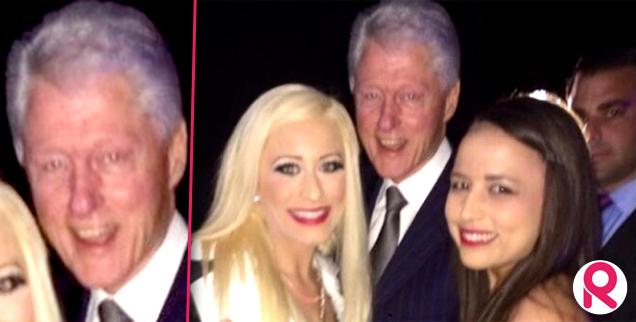 While mingling at a pre-Oscars party in Los Angeles, former President Bill Clinton rubbed elbows with a pair of working girls from the Moonlite Bunny Ranch: Barbie Girl and Ava Adora.
"I always have time for pretty girls!" the former commander-in-chief, 67, told the ladies of the night at the Oscar Awards-eve Unite4: Humanity event held on the Sony Lot, where the women were understandably starstruck by the run-in with the handsome politician.
Article continues below advertisement
"Oh my God! I put my hand around his waist -- and it was such a sexy waist -- I am in heaven!" Ava, 23, told RadarOnline.com in a statement. She said that the brush with Clinton was "better than any orgasm I've ever had in my life!"
Barbie Girl said the Democrat icon came off as "very presidential," adding that, "What happens in Hollywood, stays in Hollywood!"
Robert De Niro, Sean Penn, Martin Scorsese and Selena Gomez were also spotted at the event, where the 42nd president was honored for "promoting positivity, inspiring charitable engagement and empowering acts of kindness."
The girls -- who told RadarOnline.com the ex-prez was welcome to a freebie with them anytime they're in the area -- were squired to the party to sex industry stalwarts Dennis Hof and Ron Jeremy.
"Both girls read about the event and begged me to take them, they both said they loved President Clinton -- in more ways than one!"
Clinton -- whose wife Hillary did not accompany him to the party -- was snapped with porn actresses Brooklyn Lee and Tasha Reign at a Monaco fundraiser two years ago.