Flirt Alert: President Barack Obama Gets Chilly Looks From Michelle After Exchange With Danish Leader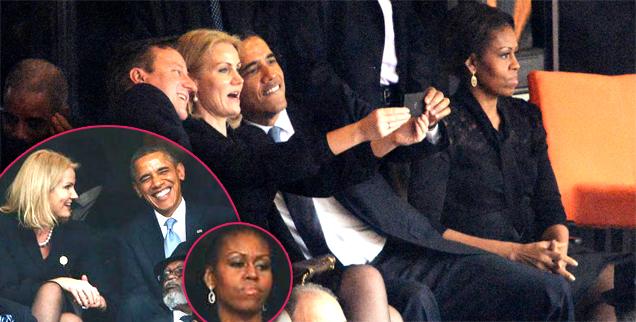 If looks could kill, Secret Service would have had a busy day Tuesday, as Michelle Obama seemed furious watching her husband, Pres. Barack Obama, enjoy a flirty exchange with Denmark Prime Minister Helle Thorning-Schmidt at Nelson Mandela's memorial.
Michelle was clearly unpleased at the spectacle as the commander-in-chief, Thorning-Schmidt and British PM David Cameron seemed to lose reverence of the occasion at Johannesburg's FNB stadium, snapping selfies like a band of middle-schoolers.
Article continues below advertisement
The free-wheeling behavior at the somber event drew criticism on social media Tuesday, with all three politicians coming under fire for their lighthearted antics.
In what might have been a punitive measure from the First Lady, she and the president switched seats, separating him and Thorning-Schmidt.
Denmark's first female PM, Thorning-Schmidt is married to British mogul Stephen Kinnock. She's met the U.S. President on two separate occasions in the states in 2012, and in Stockholm back in Sept.