Cheating In Camelot? New Tell-All Claims Jackie Kennedy Had Affair WHILE First Lady -- PLUS: Was Bobby Kennedy Bisexual?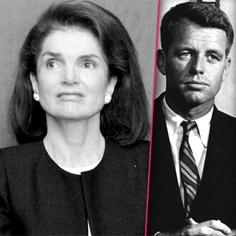 Article continues below advertisement
According to the Globe, the tell-all claims that Jackie flew Nureyev to Washington D.C., in 1963, and they soon "plunged into a secret love affair that lasted years."
As the magazine points out, they weren't always good at hiding it: The couple were caught photographed together in England in 1968, five years after President Kennedy's death, and that same year, Paris Match magazine claimed Nureyev had been overheard drunkenly boasting about his conquest.
According to Nureyev, she was just one of many Kennedys who fell for his charms. "I am the sexiest man alive," he once said. "Just ask Lee Radziwill. Just ask Jackie Kennedy. And if you don't believe me, ask Bobby and John-John Kennedy."
Indeed, the book claims, RFK and Nureyev were once spotted "kissing each other passionately in a phone booth" and that the ballet dancer and JFK Jr. were suspiciously close.
Yet another ballet dancer, John Kriza, was also linked to Jackie, according to the book. "Each of us launched an affair with him," writer Gore Vidal reportedly said. "Jackie using my apartment when I did not have John otherwise engaged."
For more on Jackie's paramours, including which U.S. presidential candidate tried to seduce her on the campaign trail, pick up the latest issue of Globe on stands now!