Tom Cruise Is Either Aware - Or 'Willfully Ignorant' - Of Church's Atrocities, Says Ex-Scientologist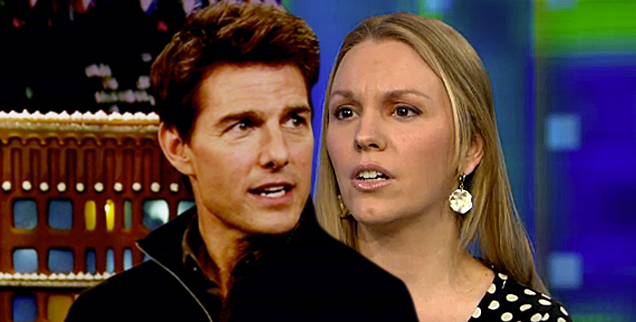 The niece of Scientology head David Miscavige, who has been estranged from the controversial church for years and written a tell-all about her experiences, told Piers Morgan Tuesday ngith that Tom Cruise either accepts, or "is willfully ignorant," toward the wrongdoings the church is accused of, such as child labor and the physical/mental abuse of its constituents.
Jenna Miscavige Hill, asked by Morgan if the Top Gun star is aware of the atrocities the church has been implicated in, said there's only one of two possibilities — neither of them particularly flattering to the A-list actor.
Article continues below advertisement
"I think that either he does know what's going on and he's not talking about it or he is willfully ignorant about it," she said. "I mean, people who endorse an organization like this, I feel like they have a responsibility to know everything about it and know what they're endorsing."
Hill said that the organization's glitzy Celebrity Centre in Los Angeles puts a pretty face on the ugliness to lure in the famous faces the church covets.
"The church itself is much nicer," she said of the Hollywood-based location. "It's a much more beautiful church. I mean, yes, celebrities have their own private entrances. You know, there's beautiful restaurants there. They have their own classrooms."
Hill said misdeeds such as child labor and punishment of church members aren't on display when famous faces such as Cruise, John Travolta and Kirstie Alley show up.
Article continues below advertisement
"Things like that you wouldn't run across there. Things like that are not dealt with at that church. So members from there who get in trouble, they get sent to another location to be dealt with. So they would never run into that sort of thing and be like, oh, what's happening there?"
Hill said Scientology's famous members are "partially" being duped by the church in terms of what it claims to represent.
"This information is out there," she said. "It's on the Internet. It's on TV. And so, you know, it is out there. So part of it, you know, must be some sort of willful ignorance."
Asked for comment regarding Hill's appearance, the church issued a statement saying: "The church will not discuss private matters involving Ms. Hill, nor any of the efforts to exploit Mr. Miscavige's name. We note the recollections in Ms. Hill's book about her schooling are dramatically at odds with the recollections of 30 of her classmates. The church has long respected the family unit, while accommodating and helping those raising children.
"The church has not engaged in any activities that mistreat, neglect or force child to engage in manual labor. The church follows all laws with respect to children. Claims to the contrary are false."
Watch the video on RadarOnline.com
Hill's book Beyond Belief: My Secret Life Inside Scientology and My Harrowing Escape is available now.