Exclusive
Tim McGraw's Alleged Slapping Victim Jesslyn Taylor Opens Up For The First Time About Violent Hit To The Head: 'It Was Hard!'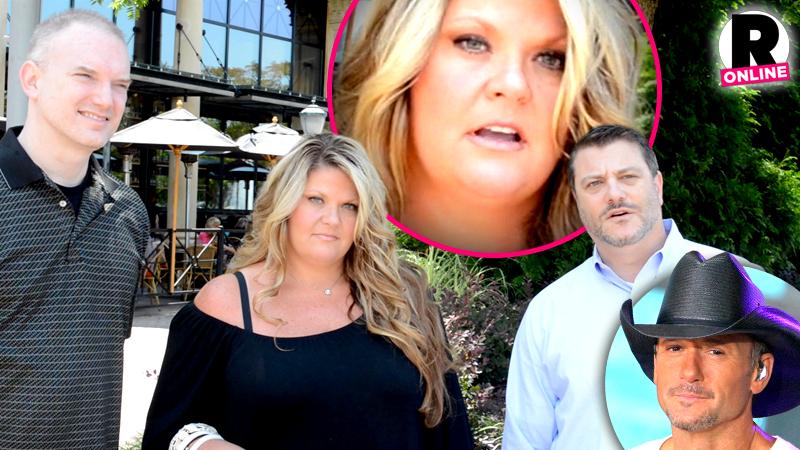 Tim McGraw likely thought his slapping scandal was far behind him after privately settling the lawsuit brought against him by his alleged victim. But soon he could be singing the blues, now that Jesslyn Taylor, the woman at the center of the allegations, is speaking out for the first time, exclusively to RadarOnline.com.
"I was at the concert, Tim came out on the catwalk, walking across the bar where everybody was, everybody was excited, hands up in the air, filming and I was filming," Taylor said. "Just excited. He bent down to sing to me."
Article continues below advertisement
"And I reached up, hit him on the leg, two of my fingers got stuck in his jeans, when he turned to walk away it ripped a hole in his jeans," she continued.
The video that surfaced in July – and sparked outrage among his fans – shows Taylor dancing to the words of McGraw's hit "Truck Yeah" during a concert at Aaron's Amphitheatre in Atlanta, Georgia. And as she reached out to touch the superstar she ripped his jeans, prompting what looked like a forceful slap across the face, courtesy of Faith Hill's hubby.
Although Taylor admits she "had a few drinks," she emphatically tells RadarOnline.com she was by no means going for McGraw's man parts: "Absolutely not!"
And she claims it was McGraw who wouldn't back down, heading for another slap, until a bystander saved her from another attack.
"He slapped my hand away then he turned back slapped me in the head very hard," she claimed. "I fell backwards. And then he actually reared back to hit me again, but a fan on the opposite side of the stage grabbed his arm and stopped him."
Article continues below advertisement
Joining Taylor, 43, on camera for the statement were her personal injury attorneys Eric Hertz and G. Sean Linkenback.
"You've got to keep in mind she was in an environment that was encouraging fans to come up and touch him and interact with him," Hertz explained.
After McGraw took the swipe, the singer's security was swift to act in his defense, leaving her little time to contact police, she said.
"From there I was drug out and put in a holding area," Taylor added. "I did not have time. I was drug out of there by security guards and put in a holding cell and I sat there about 20 minutes and then I was released and my husband was there to pick me up and I left."
Although since this video was taken, Taylor and McGraw have reportedly agreed to settle the matter, at the time her attorneys simply wanted the hunky heartthrob to apologize before Taylor took any legal action.
"First thing that needs to happen is there needs to be an apology and not blame her," Hertz said.
In the days after the incident occurred, Taylor says she sought medical attention and was considering filing a lawsuit.
Article continues below advertisement
"It was hard! I was slapped across the head. And I did fall back. And I have an appointment with a doctor," she added.
Four years prior, the 47-year-old was honored at the Men Stopping Violence awards dinner when he revealed his history with domestic violence.
"I am a product of domestic violence," McGraw said at the time. "It is a learned behavior. I learned a lot. I learned how not to treat my wife, how not to treat my family."
Given his touching words about the violence that has plagued his past, Taylor was shocked that he would lay a hand on a woman.
"It's very ironic, actually," she said.