Exclusive
They Do! Jason Aldean & His Mistress-Turned-Girlfriend Get Her Family's Approval, Hoping For Wedding Bells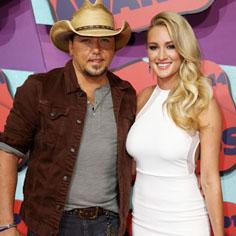 Whoever said cheaters never prosper?
Because country stud Jason Aldean and his mistress-turned-girlfriend Brittany Kerr are going strong -- and her family is giving the relationship two thumbs up — even hoping for a walk down the aisle, RadarOnline.com has exclusively learned.
"I have met him and he seems to be very nice," Kerr's grandmother, Louvada Barbee, told Radar.
"He's so down to earth. I approve of it. I hope everything works out."
Article continues below advertisement
The two made serious waves when photos emerged in 2012 of them caught in a lip lock while Aldean was still married to his wife and high school sweetheart Jessica Ussery. The two divorced in 2013.
Even after a failed marriage, Barbee thinks Aldean and Kerr, who made their first public appearance as a couple at the CMT Awards on Wednesday, could make it last.
"For sure! I hope it will," she said of making their relationship more permanent by getting married.
"If that is what is to happen then it's meant to be. Whatever they do is up to them."
She added, "Being with someone is what love is all about. You don't want to be with someone you don't love."
But one thing's for sure, her family is adamant she had nothing to do with their marriage falling apart after 12 years.
"She had nothing to do with the breakup of their marriage," said the grandmother.
"There has been lots of stuff printed that's just not true. I know what's going on with her all the time," she continued. "It was over a long time before they met.
Article continues below advertisement
"He left his wife long before they got together. He left his wife long before she even talked to him."
The singer actually ended up fessing up to his transgression by saying "I had too much to drink, let the party get out of hand and acted inappropriately at a bar."
The former American Idol contestant also apologized for her part in the make-out.
Despite the mea culpas, her family still says it wasn't her fault.
"No way! She is not a homewrecker," said Barbee.
"I'm proud of her. She's a good, nice girl."