She Had Enough! New Book Claims Jackie Kennedy Wanted To Divorce Cheating Husband JFK Before Assassination — 'Bobby seems to show more romantic interest in me than Jack does'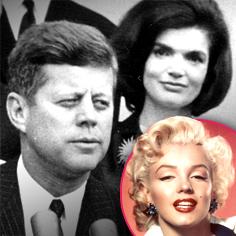 Rumors of former President John F. Kennedy's philandering have been around for decades, but according to the Daily Mail, a new book asserts that his wife, Jacqueline "Jackie" Kennedy, had had enough of it and wanted a divorce before his untimely death.
Darwin Porter and Danforth Prince's Jacqueline Kennedy Onassis: A Life Beyond Her Wildest Dreams alleges that JFK's father, Joe Kennedy, offered the former First Lady a $1 million check to stay in the marriage, allegedly saying, "'There is danger facing you as a divorced Catholic woman.'
Article continues below advertisement
'I suggest you put divorce out of your mind."
Jackie reportedly wouldn't put up with her husband's cheating ways. A Life Beyond Her Wildest Dreams claims that she didn't just sit back and accept her father-in-law's low-ball offer. Instead, she allegedly told him that her presence in the marriage would cost $20 million, "'if John brings home any venereal disease from any of his sluts,'" according to the authors.
But the future First Lady allegedly had qualms with John throughout their courtship.
Jackie allegedly wrote in her diary that she believed John's brothers showed more interests in her than her future husband. When she first met the Kennedy clan in Hyannis Port, Mass., she reportedly wrote in her diary:
"'Jack is no Burt Lancaster. He has a funny body, skinny, with toothpick legs. His best feature is his handsome face.
Article continues below advertisement
'Actually, Bobby seems to show more romantic interest in me than Jack does…and Teddy lusts after me like a lovesick puppy dog. So far I have avoided being alone with Bobby. I think if I went out alone on a boat with him, he'd rape me."
From history we know that the couple tied the knot in 1953, but John's rumored philandering allegedly took its toll. Marilyn Monroe's famous Happy Birthday, Mr. President performance allegedly served as the straw that broke the camel's back, leading to Jackie's request for divorce.
Before the couple could officially end their union, Lee Harvey Oswald murdered the president in November 1963. Jackie would've been the first First Lady to divorce a sitting president.
She later married Aristotle Onasis.