Kim & Kyle Richards Incredulous After 'Slurring' Taylor Armstrong Admits She Has 'No Idea' Where 6-Year-Old Daughter Is!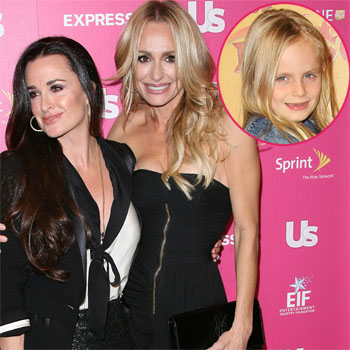 Article continues below advertisement
Taylor's call worries the Richards sisters – not just because her voice sounds slurred – but because she admits during the call that she has no idea where her six-year-old daughter Kennedy is!
Thankfully, the little girl was actually at Kim's house, playing happily, and safely, with Kyle's daughter Portia at the time the call was made.
"I have just become close to someone that I've known for a long time and he's…invited me to go on a plane tonight…and I think I'm in love," Taylor slurs as she explains why she cant attend the party.
"In the last 48 hours I think I've fallen in love."
"I'm so happy and he loves Kennedy," she adds.
However, when asked if she wants to let her daughter continue to stay with Kyle -- shockingly, Taylor asks: "Oh you have Kennedy with you…? Well, take her!"
"You didn't know she was at my house?"Kyle asks incredulously.
And both sisters become visibly worried when Taylor admits: "No idea. You know I trust you more than any person on the planet."