Tamra & Eddie Judge Exchange Vows On Emotional Finale Of Tamra's OC Wedding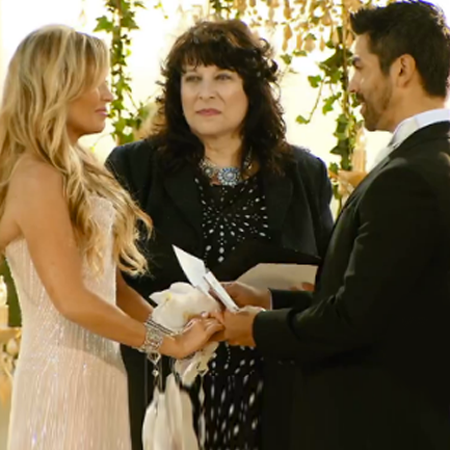 Article continues below advertisement
"Tamra, I promise to be your lover, companion and friend, to love and care for your children as I officially become your partner in life," he said. "I promise to always love you."
A teary Tamra reciprocated with a jarring soliloquy, telling Eddie, "I knew from our first date that you were the many who would change my life forever. You saw past my insecurities and bore though my walls and loved me for me.
Her voice cracked as she praised Eddie for the hands-on role he's played as a walk-on dad.
"You're an amazing man and a positive influence in my life. But most of all, my children's life -- it takes on a man with a big heart to take on a woman with four kids and more baggage than Louis Vuitton has to offer.
"I promise to love, honor and cherish you -- but I might have a problem with obeying you."
Watch the video on RadarOnline.com
MORE ON:
Watch What Happens Live
Article continues below advertisement
And with that, the two kissed.
The happy couple appeared on Watch What Happens Live Monday, where Eddie expanded on his relationship with Tamra's children, and the vows he made to them as an addendum to his marriage proposal to their mother.
"They were very special to me as well," Eddie said of the vows. "I wanted them to feel as part of this, I wanted them to know that I love them."
Said Tamra: "I think every one of the kids were crying … I thought that it was beautiful."
Watch What Happens Live airs Sunday through Thursday on Bravo at 11/10c.