Exclusive
Take A Peek Inside The Insane Lives Of My Big Fat Gypsy Sisters: Stripping, Drinking, Fighting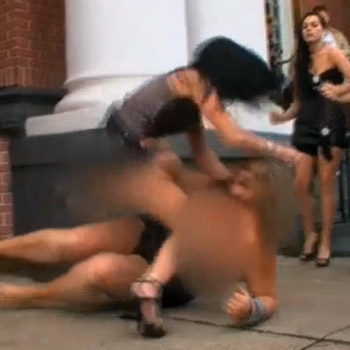 If you thought My Big Fat American Gypsy Wedding was outrageous , you ain't seen nothin' yet!
The outrageous women from the Stanley family are back with yet more stripping, drinking and fighting - and RadarOnline.com has an exclusive sneak peek at their brand new series Gypsy Sisters.
The TLC Gypsy Wedding spin-off focuses on four of the Stanley family women - Nettie, Mellie, Kayla and Laura - and they lead anything but sane lives.
Article continues below advertisement
"People think gypsies are fortune tellers and have crystal balls and that couldn't be farther from the truth," Nettie says.
Meanwhile, her crazy sister Mellie appears to be even more out of control than she was on Gypsy Wedding, stripping and screaming at everyone she knows in Martinsburg, West Virginia.
"Gypsy women are supposed to get married, not drink and obey their husbands, but I do whatever I want," Mellie vows.
Nettie confesses that she's worried about her sibling, saying Mellie is "known for her craziness," and that she uses her foul mouth to express just how mad she is most of the time.
Despite having nine children to care for, Kayla is far from a conventional mother with her "mad gypsy temper," that is revealed in the clip where she gets into knock-down drag-out fights.
Last but certainly not least, there's Laura, who explains "my life revolves around tanning, shopping and looking good for my husband."
Article continues below advertisement