Brace Yourself For Mayhem As My Big Fat Gypsy Wedding Hits The U.S.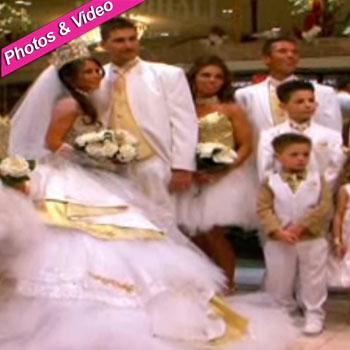 Article continues below advertisement
The over-the-top antics of the wandering reality stars includes drunken wedding receptions where wasted guests dance wildly in bedazzled bra tops, along with exposing their strong core values, such as the women not being expected to work.
Just like with past reality TV hit shows, viewers should expect lots of explosive fighting, lots of drama - and lots of loving!
'Instead of Jersey Shore, it's gonna be something else. Gypsy Shore," one of the men of the gypsy group reveals in the preview clip.
While another father is shown introducing his daughter to her future husband, even though she's only 14 years old.
Based on a British series of a similar name, My Big Fat American Gypsy Wedding focuses on the families of Rom and Ludar originally from Eastern Europe and Russia but now live in Maryland, West Virginia and Georgia in populations of up to a million.
Don't expect them to be wandering through the countryside in horse-drawn caravans reading people's fortunes - these gypsies love all the luxuries that modern life offers.
Article continues below advertisement