They Put The 'Fun' In Funeral! Sneak Peek Of Outrageous New Show About Party-Style Funerals!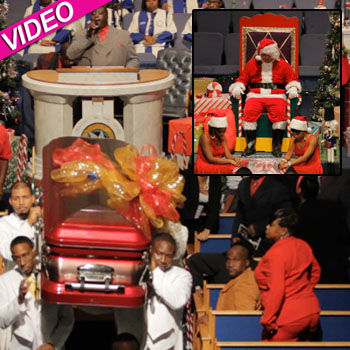 Funerals don't have to be sad, they can be wild, over the top parties and RadarOnline.com has a sneak peek of a brand new show called Best Funeral Ever!
"We're not having a funeral we're having a celebration of life," John Beckwith Jr., the founder of Golden Gate Funeral Home says about the services they provide.
Instead of weeping, he says to be joyful!
"Heading to the afterlife ain't the time to cry - it's the time to celebrate!"
Article continues below advertisement
John and his team will do anything to honor a family's request for a funeral – including dressing up like Santa and riding on top of the coffin to having pot bellied pigs at the ceremony, nothing is too extravagant for these celebrations.
"You may be in a casket but it can still be fantastic!"
Check out the video of Best Funeral Ever and catch the show on TLC Sunday, January 6 at 10/9c.
More Videos Online