Robin Thicke's Wife Paula Patton Confused By Twerk Uproar; Asks, 'Did They Think Miley Was Gonna Sit Down And Play Piano?'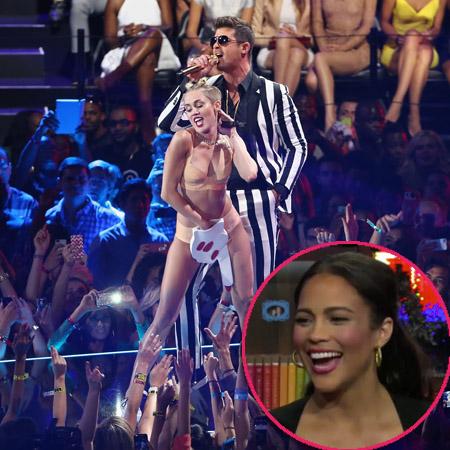 Liam Hemsworth might have been humiliated by it, but Paula Patton takes it all in stride.
Robin Thicke's model wife told Andy Cohen on Tuesday's Watch What Happens Live that she doesn't get the uproar over her husband's racy dance with Miley Cyrus at the VMAs last month, asking rhetorically, "Did they think Miley was gonna sit down and play piano?
"I don't really know what the big deal is I don't understand -- I didn't get the big deal!" Paula said, adding, "I don't know how NOT to dance with your booty!"
Article continues below advertisement
Paula, who has a 3-year-old son Julian with her longtime love, said she "wasn't surprised at all" when Miley grinded her rear end on her husband's crotch during their duet of his sexy hit, Blurred Lines.
"Honestly, they rehearsed for three days beforehand," said Paula, who appeared her husband in the video for his 2006 hit, Lost Without U.
As we previously reported, the Give It 2 U singer, whose father is Growing Pains star Alan Thicke, called his relationship with Paula "the greatest love of the century, and the most functional, dysfunctional marriage in Hollywood" while speaking to Star last week.
Watch What Happens Live airs Sunday through Thursday on Bravo at 11/10c.