RHOBH Fireworks: Brandi Tells Mauricio 'Go F**k Yourself' As Adrienne Feud Rages On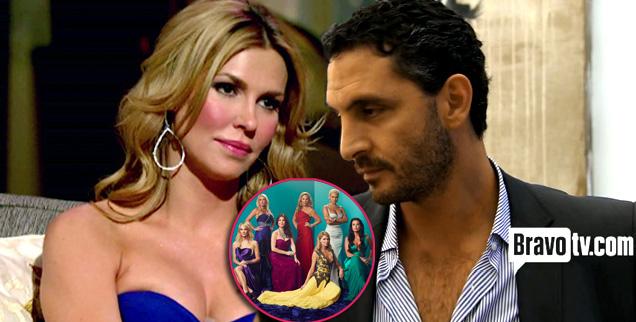 The latest episode of The Real Housewives of Beverly Hills kept the drama ball rolling, as Adrienne Maloof's lawsuit against Brandi Glanville kept almost everyone at odds, and RadarOnline.com has the details.
Last week's confrontation resumed at the Moroccan dinner party when Brandi defended herself from Mauricio Umansky, who was disgusted by Brandi's comments about Adrienne.
"I did say that…I did say it. And was I pissed? Mother f**k yes I was pissed," Brandi yelled. "So go f**k yourself. It's about my kids, and it's about my life, so shut the f**k up!"
Article continues below advertisement
The tirade of four letter words may have shocked some at the dinner party, but not Kyle Richards.
"What Brandi is saying doesn't shock me," Kyle said. "I mean you cannot control this girl's mouth."
"I need to take care of my kids, me myself and I," Brandi went on. "She has a billion f**king dollars, and now she's suing me. Perfect."
Although Kyle and her husband seemed to be siding with Adrienne, Lisa Vanderpump and her husband Ken Todd came to Brandi's defense.
"You have Paul and Adrienne with the might of the Maloof family behind them, threatening the single mother," Ken said. "I think it's wrong."
Taylor Armstrong didn't seem to have any sympathy for Brandi either, turning everything around to be about her.
"I've f**king had it. I've been through more than anybody sitting here times ten," Taylor said.
"It seems like whenever there is a conversation, Taylor takes the conversation and spins it so she ends up talking about herself," Yolanda Hadid said, which only infuriated Taylor more.
Article continues below advertisement
"Find David hanging, and be bankrupt and have a $25 million lawsuit, a public company suing you, and not have been a supermodel in your life, and then let me know how you feel," Taylor whined.
"Because it's a very different situation on my end, and I don't appreciate that."
Taylor continued, "I think we know a little bit more about her husband than she thinks we know. I mean he was married to one of our very good friends for 20 years. It wasn't all kisses and roses then, was it?"
Kyle, for one, was fed up with all the fighting.
"I'm not making any more effort to try to get anybody together or make peace with anybody," she said.
The housewives then gathered at a swanky art gallery to view some new pieces by a friend of Brandi's. There, Brandi began to invite some of the ladies to Las Vegas for a girls trip.
"I was asked to host this class called Brandi's Night School for Girls where we teach the girls how to find their sexy again on a stripper pole and then we send them out for a nighttime of VIP partying," Brandi said - as RadarOnline.com exclusively reported last June.
Article continues below advertisement
As Ken and Lisa left the art gallery, they had an awkward goodbye with Mauricio that didn't go unnoticed.
"We all know that when something's bothering Lisa, she has no problem saying it to you. It's hard when you're close with someone and there's some unspoken negativity between the two of you," Kyle said.
"It's very difficult. But if you keep it in, eventually there's going to be an explosion."
Tune in to The Real Housewives of Beverly Hills next Monday at 9/8c on Bravo to find out if there's an explosion!