'Racism Is Alive And Well In America': Viral Video Showcases Mother Repeatedly Calling Black Man The N-Word In Front Of Her Kids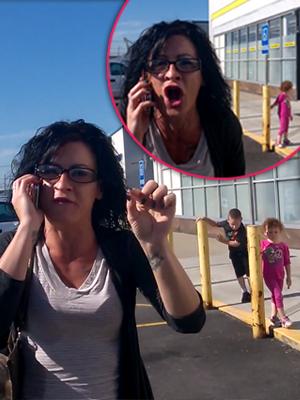 In a jarring video, a mother-of-two is seen repeatedly calling a black man the N-word after the two had some sort of exchange outside a Cheektowaga, New York dollar store.
The man filming the video, who identified himself as black, is sitting in the driver seat on his vehicle while the woman, who has wavy black hair and wears dark-rimmed glasses, barks a bigoted diatribe on her cell phone, purportedly to her husband.
Article continues below advertisement
"Ive got everything on tape, you calling me an N-word, cause that's how you feel."
"You scared my children!" the woman responded, before telling her small children she was summoning their father.
"He don't like black people either," the woman said, at which point the man in the car observed, "Racism: alive and well."
"It sure is, it's disgusting what black people got to do," the woman said, justifying her use of the disparaging term by claiming that the man "scared the sh*t out of her kids."
"Oh f*cking well," the woman — who at one point, references having stripped for police officers — scowled at the man, before finally getting her husband on the line.
Watch the video on RadarOnline.com WARNING: Content Is Offensive & Disturbing
youtube=https://www.youtube.com/watch?v=gqdCWpUmP-Y&w=560&h=315
"Talk to this N-word right now … I called you a N-word, you're an N-word, nasty f*cking N-word!" she said, predicting that he was recording her outburst "to put on YouTube."
Article continues below advertisement
The woman peppered a number of threats into her tantrum, telling the man she was going to toss hot coffee on him; break his recording device; yank him out of the car, and said her would beat him up and kill him.
"Racism is alive and well, alive and well- amazing, I'll tell you," the man said. "I start my car, she calls me an N-word. Amazing."
The video provoked a number of reactions online, garnering nearly 200,000 YouTube views in a few hours, and landing atop Reddit's front page, where hundreds of commenters lent their two cents on the woman's intolerance.
A user named uscjimmy said that "only the trashiest of the trashiest would be proud to say that in front of her own kids," while user Daitenchi observed that the calm demeanor of the children indicated they're used to the mercurial behavior.
"When a mom is having a serious meltdown like that the kids should be scared," Daitenchi wrote. "Since they are dancing around that tells me that they are accustomed to this sort of behavior."