We Want Justice! Family Of Black Texas Man Found Dead After Relationship With White Woman Offers $30K Reward For Info On The Case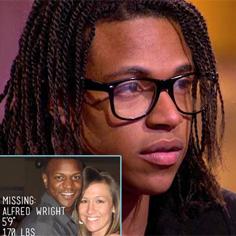 More than three months after Alfred Wright, brother of American Idol contestant Savion Wright, was found dead in East Texas, mystery continues to shroud the circumstances surrounding his death. Was he the victim of a racially-motivated murder? Did his rumored relationship with the white relative of a local law enforcement official have anything to do with it? And what exactly happened in the hours before he was found dead with his tongue and teeth removed? As RadarOnline.com has reported, Wright's family and friends have slammed local authorities for what they believe is a lack of transparency in the case so far. Now, they're taking matters into their own hands and offering a substantial reward to anyone who can help shed light on the case.
Article continues below advertisement
"Amid rumors, unusual circumstances, and conflicting details, Alfie's family still has no answer to what really happened to Alfie on that night," a flyer for the $30,000 reward stated, urging anyone with information to call private investigator Chuck Foreman, who is working with the family.
Foreman previously told RadarOnline.com that he believed the crime could be racially motivated since Wright -- who was married to a white woman -- had been rumored to be conducting an affair with the law enforcement official's relative in the weeks before his death. The Sheriff's Department "knew about the rumors about the woman and Wright," Foreman revealed. "That's what makes it interesting."
Wright disappeared on November 7 after his truck broke down outside of Hemphill, Texas. Despite initial searches turning up pieces of the clothes he had been wearing when he disappeared, Sabine County Sheriff Tom Maddox called the search off after just four days.
When the body was later found, "His two front teeth were missing and his tongue was removed," Foreman told RadarOnline.com. "And an ear was missing."
Article continues below advertisement
An initial autopsy claimed those wounds were the result of "animal and insect activity," and that Wright had died of an accidental overdose of cocaine and methamphetamine. But a second autopsy completed by an independent official hired by the family claimed that there had been "severe trauma" to Wright's body.
Last week, the Sabine County District Attorney's Office announced that it was turning the investigation over to the Texas Attorney General's Office, and the Justice Department has since stepped in.
For Wright's family, it's too little too late. "There was no diligence or honesty from the authorities from the start," Foreman told RadarOnline.com. "There's a definite lack of trust between the family and law enforcement."
Indeed, the family found the body on their own after authorities gave up the search, and now, with the reward, it's clear that they're hoping they will be the ones to find out just what happened to the young 28-year-old dad who had everything to live for.