Porsha Stewart Reveals She Couldn't Get Pregnant -- Because Husband Kordell Sexually Neglected Her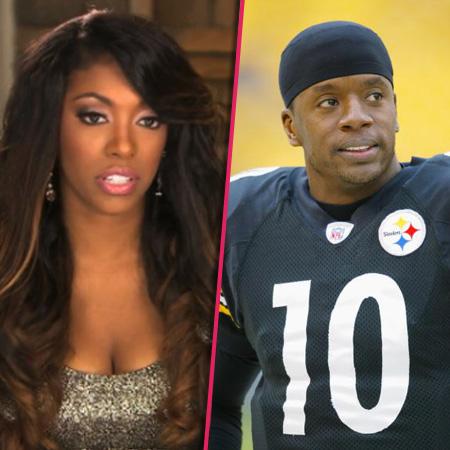 Porsha Stewart, whose implication that her estranged husband Kordell Stewart might be gay has rocked The Real Housewives of Atlanta this season,said that his lack of sexual interest prevented her from getting pregnant on Sunday night's RHOA episode.
"I wanted children," Porsha tearfully told her psychologist, Dr. Blake, while discussing her messy divorce.
"A doctor said, 'Porsha, I'm concerned. You're supposed to be pregnant by now,' and I was actually too embarrassed to even tell the doctor 'I'm not pregnant because my husband hasn't really been trying.'
Article continues below advertisement
"I put on my lingerie, I worked out, I kept my body up and I felt like, hey, 'What is going on?'" she fumed.
As RadarOnline.com has previously reported, in the therapy session, Porsha also admitted that Kordell was more of a father figure than a husband.
Porsha, whose father died when she was 17, admitted she had played a role with the former football player.
"I thought we could fake it 'til we make it," she told Dr. Blake.
"I was living a lie," Porsha told the cameras, saying Kordell was a whole different person behind closed doors.
"I need to start living for me," she concluded.
However, Dr. Blake was shocked when she saw Porsha was still wearing her wedding ring.
"When you take off the ring that you were going to wear for the rest of your life, then it's final," the crying beauty explained. "So I thought maybe I'd keep it on until it's finished."
Article continues below advertisement
Later, some of Porsha's RHOA co-stars met her for lunch to show their support while she goes through her bitter divorce from Kordell.
"Right now, it's not easy," Porsha admitted to the group.
Porsha -- who has previously made gay insinuations about Kordell and even implied domestic abuse -- told the ladies that she had to ask her husband for grocery money and, "I became the oldest child in the house."
RHOA alpha dog NeNe Leakes snorted, "That's so ridiculous."
Porsha said, "I was his princess. Everything was taken care of."
However, the housewife told her friends what a huge price she had paid because the ex-NFL star called all the shots.
"I couldn't have my sister at my house," Porsha said, because Kordell apparently didn't want her visiting.
"My world was getting smaller and smaller and smaller," she said, apologizing for pushing the other RHOA stars away last season.
Article continues below advertisement
"It feels good to be real with these ladies," Porsha told the cameras, happy to finally be out of her housewife cage!
Another explosive Sunday night development dealt with Phaedra Parks' anger about her husband, Apollo Nida, allegedly sending flirty texts to RHOA co-star Kenya Moore.
As the show started, Kenya appeared to prove to co-star Kandi Burruss that Apollo had reached out to HER first through texting.
The texts were innocuous, but "Kenya and Apollo should have known better" than to be communicating, Kandi told the cameras.
Later, hell hath no fury like Phaedra when she gave her husband the third degree over dinner about the sex text scandal.
As RadarOnline.com previously previewed, Phaedra confronted Apollo about the texts.
On the show, Apollo asserted, "Nothing happened between me and her. I didn't initiate the texts."
Article continues below advertisement
But after Phaedra pressed him about what happened when her husband and Kenya were both staying at the Beverly Wilshire Hotel in Los Angeles, Apollo said Kenya had indeed propositioned him -- but he turned her down.
"She wanted to f***. I chose not to.
"If I wanted to sleep with Kenya, I could have slept with Kenya," he said arrogantly, but also told his wife he had immediately gone to another hotel to avoid the former beauty pageant queen.
The RHOA husband had also told Phaedra, "You're not my mama. You gotta lighten up."
"I got nothing going on with her," he said about Kenya as the show ended, but Phaedra was seething -- and musing about killing Apollo, the father of their two children!
In another Sunday night plot, NeNe went to visit Cynthia Bailey at home as she recovered from her uterine fibroid surgery.
As RadarOnline.com has previously reported, Cynthia's medical condition had led to some embarrassing problems during her cycle.
Article continues below advertisement
NeNe bluntly confirmed that on Sunday's show, telling Bravo's cameras, "Cynthia was bleeding everywhere -- Saks, Neiman's!"
The model told NeNe, "I feel better. My energy's up. I'm not anemic."
When Kandi phoned Cynthia, the music producer said she had also had suffered from fibroids and anemia before having surgery for the condition a few years ago.
Also on Sunday's episode, RHOA fans saw how Kenya was living in what NeNe called a ghetto hotel after being evicted from her Atlanta home.
NeNe took her pal real estate hunting, but Kenya turned up her nose at a penthouse condo with a more than $1.6 million asking price -- because it was a mere 4,000 square feet!
Watch the video on RadarOnline.com
Kenya told the cameras 5,000 square feet was her minimum.
And the "Gone with the Wind Fabulous" singer, who confided in NeNe that she was in love with a man she had met in Nigeria, said, "I definitely need a big bed. There's gymnastics involved!"