'Real Housewives Of Atlanta' Star Porsha Stewart: Ex Kordell Was More Of A Father Than A Husband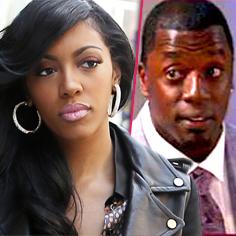 Porsha Stewart is facing her divorce drama from estranged husband Kordell Stewart … by going to therapy.
In the upcoming episode of The Real Housewives of Atlanta, Porsha learns through therapy that Kordell may have been more of a father figure to her, than a husband.
"When Kordell filed for divorce, it really hit me hard," Porsha explained about her visit to the therapist. "I completely pulled back from everyone. And now, I need to sit down and finally face what's going on."
Article continues below advertisement
During their session, the therapist asked Porsha: "Was your name on the deed? Was your name on the bank accounts?"
The reality star shook her head as if to say "no."
"You could have been a hired help to take care of it," the therapist tells her. "When you have no funds and resources, you become quite dependent on someone."
Porsha responded, "That's what I thought being a wife was."
"Did you really have a husband or did you have a father?" the doctor asked.
"I think it was more like a father, but that's what attracted me to him because my father died when I was 17 years old," the RHOA star said, adding she wanted someone who wasn't afraid to take charge.
"My father always had a plan for his family. I trusted him to provide for me, and I thought that Kordell had that characteristic."
The therapist countered the thoughts, bluntly telling Porsha, "The reality is, it's not the same relationship. You don't sleep with your father."
Overcome by a flood of emotions, Porsha broke down.
"Then why did he marry me?" she sobbed as her therapist fires back, "The real question is why did you marry him?"
Watch the video on RadarOnline.com
The Real Housewives of Atlanta airs Sunday at 8/7c on Bravo.