'I Might Have To Kill Him': Incensed Housewife Phaedra Parks Confronts Husband Apollo About Kenya Moore Sexting Scandal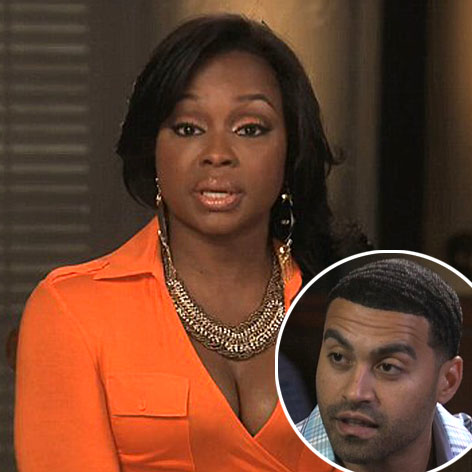 Hell hath no fury like a woman scorned!
In the upcoming episode of The Real Housewives of Atlanta, Phaedra Parks confronts her husband Apollo Nida about the alleged "flirty texts" he received from her costar Kenya Moore.
When she asks Apollo what happened, he replies: "She wanted to f—, okay. She wanted to have sex in LA."
"I might have to kill him… with this damn steak knife," Phaedra responds.
Back at the table, she threatens her hubby for his behavior.
Article continues below advertisement
"You are about two seconds from me cuttin' out your tongue," she warns her hubby.
After meeting with her co-star Kandi Burruss, radaronline.com/category/tags/kandi-burruss/ Phaedra decides to sit down with Apollo and work through their issues.
"I just want to talk to Apollo, so that I can put this all to rest because I'm sick of hearing about it," she says during her confessional.
"Don't text my friends," Phaedra tells her husband.
"Baby, I'm a grown man. You're not my mama," he responds. "You've got to lighten up."
In her confessional, Phaedra rants about his texting with Kenya.
"What he sees as harmless, I see as inappropriate," she says.
Back at the dinner table, she doesn't think Apollo is taking her seriously.
"Well, it better not happen no more," she says. "Don't do that again."
Apollo tries to defend himself and says the texts weren't a big deal.
"Enough with the threats!" he vents – with the couple's fight looking far from over.
Watch the preview below and tune into The Real Housewives of Atlanta on Sunday nights on Bravo at 8/7c.