Diesel Speaks, Race Theory Nixed: 7 New Developments In The Death Of Paul Walker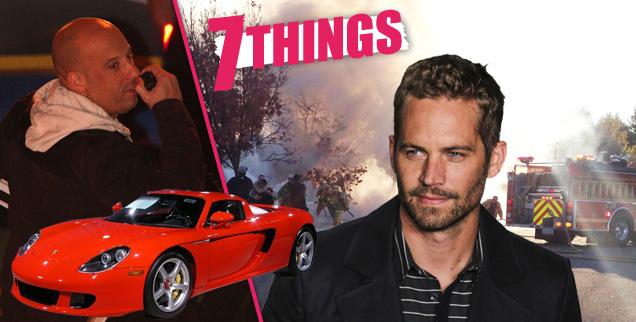 RadarOnline.com has a comprehensive look at the latest breaking details in the death of actor Paul Walker, who perished at 40 Saturday in a crash with pal Roger Rodas in Santa Clarita, Calif.
7. Death Car Examined
With the actor's death, CNN took a closer look at the 2005 Porsche Carrera GT, the high-performance car he perished in, explaining the difference between it and your average automobile. Among them: Only 1,300 of the cars have been produced; the $450,000 car has a V10 engine in the middle, eclipses 600 horsepower, and can go up to 208 mph, with oil changes costing about $900, experts told the network. Las Vegas mechanic Todd Trimble called it "a very hard car to drive." Online reports early Tuesday pointed to a possible mechanical failure, or leaking of steering fluid, as to possible reasons why the crash occurred.
Article continues below advertisement
Watch the video on RadarOnline.com
6. Studios Walk The 'Fine Line' With Posthumous Releases
Universal Pictures has announced it will delay the release of the actor's final film, Fast & Furious 7, working toward releasing the film in a tasteful manner in the wake of Walker's shocking death. Walker was slated to travel to Atlanta this week for further filming, as well as Abu Dhabi in January, for another shoot, leaving filmmakers with the quandary of reworking the film in a respectful manner, particularly due to its' chief car-racing storyline tragically intersecting with the actor's death. Exhibitor Relations Jeff Bock told the AP the movie's producers "are going to have to walk that fine line of recognizing the tragedy without exploiting it. Characters have died in the franchise, and it deals well with the issue of death and tragedy -- but this is real life, and fans are feeling a real loss."
5. Copycat Racers
Officials in Santa Clarita, Calif., reacting to reports of hotrod copycats racing near the crash site, have issued a warning against motorists "burning rubber" in the area. Santa Clarita sheriff's office spokesman Richard Cohen said deputies were dispatched to the area Monday "after police started getting reports of drivers burning rubber and spinning tires at the site." While not arrests had been made, Cohen said, officers were stationed "there to stop that behavior if it happens again." California Highway Patrol Sgt. Rick Miler called the area "a hot spot for street racers," due to its' terrain and isolation.
Article continues below advertisement
4. Final Thoughts On Fatherhood
Walker spoke with the AP two weeks before his Nov. 30 death, in a promotional interview for his upcoming movie Hours, a Hurricane Katrina-themed drama in which he played an expectant father. In a candid chat, Walker, who is survived by a 15-year-old daughter named Meadow, opened up about his own jagged path of parenthood -- and seemed optimistic he was getting better with age. "My baby wasn't planned. I wasn't married, out of wedlock, the whole bit, finding my step with it," he said. "I'm still finding my step. I think you always are. I'm five times the father that I was five years ago. Your head's more in it. Your heart's more in it. You can't force it. You want to be better at it, just something hasn't clicked yet." The film is slated to hit theaters Dec. 13.
Article continues below advertisement
2. Officials: No Race Occurred, Autopsy Results Forthcoming
The Los Angeles County Sheriff's Department Monday debunked reports claiming the actor and friend Roger Rodas were racing in the moments preceding the tragic crash Saturday. Investigators "have received eyewitness statements that the car involved was traveling alone at a high rate of speed," police said, adding that "no eyewitness has contacted the (department) to say there was a second vehicle." Elsewhere, Los Angeles County Coroner spokesman said dental records to identify the remains of the victims would likely be available Tuesday.
1. 'An Angel Up In Heaven'
Vin Diesel addressed fans and mourners at the Santa Clarita, Calif. crash site Monday, calling his longtime Fast & Furious co-star "an angel up in heaven." The choked-up action star spoke to the crowd from a Sheriff's Department car, saying, "If my brother were here today … and if he saw all the love you were bringing here … if he could see for himself that shown my brother love." Diesel, who played Dominic Toretto alongside Walker's character Brian O'Conner in the series, told the crowd, "Thank you for coming and showing that angel up in heaven how much you appreciated him."