Patti LuPone Defends Her Infamous Rant At An Audience Member During Gypsy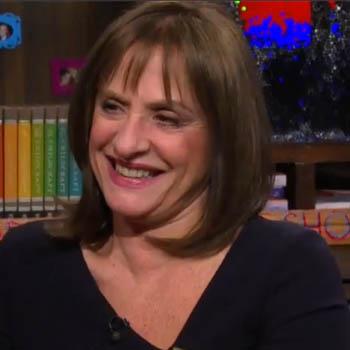 It's one of the most legendary rants in Broadway history – and Tony Award winner Patti LuPone is still (and rightly so) making no apologies.
On Wednesday night's edition of Bravo's Watch What Happens Live, LuPone ,63, defended her actions on that now infamous night during a performance during the 2008 revival of Gypsy when she literally stopped the show – and launched into a blistering tirade – when a man in the audience started taking photographs with a cell phone.
Article continues below advertisement
After affable host Andy Cohen played audio (complete with a hilarious visual aide) of the legendary rant, during which an infuriated LuPone broke character and shouted at the top of her voice, "STOP TAKING PICTURES RIGHT NOW! YOU HEARD THE ANNOUNCEMENT! WHO DO YOU THINK YOU ARE? HOW DARE YOU? WHO DO YOU THINK YOU ARE? GET THEM OUT! I WON'T CONTINUE WITH THIS! GET HIM OUT! THIS IS THE THEATER AND ALL OF YOU, EVERY SINGLE ONE OF YOU, EXCEPT FOR THAT PERSON HAS RESPECT, AND I, AND THE REST OF THIS COMPANY, APPRECIATE IT. THANK YOU."
When Cohen asked if she "loved doing that in a weird way?" the diva-licious LuPone laughingly exclaimed, "No! First of all, audiences don't know how many times we don't stop the show because this is just an epidemic.. (Cohen interjects: "People taking pictures…" ) …or texting.. you see that LED light, filming… but also now, it's the sippy cups… plastic.. the noise… you hear that.. but no, you never want to stop the show… but it just breaks this atmosphere that we're working so hard to create because everyone's taken out of it.. everyone's taken out of it when something like that happens."
Article continues below advertisement
LuPone went onto explain that the incident happened right before she was to perform one of Gypsy's biggest numbers – the manic song, Rose's Turn. Said LuPone, "I had worked my way up to Rose's Turn. That's why it's as wild as it is. I was about to do.. It was right at the top of Rose's Turn, and it was an automatic flash."
Watch the video on RadarOnline.com
The audience member was thrown out, the show went on, and LuPone's rant became the stuff of Broadway legend.