The Ultimate Bad Review! Audience Member Pukes Over Balcony At Broadway Play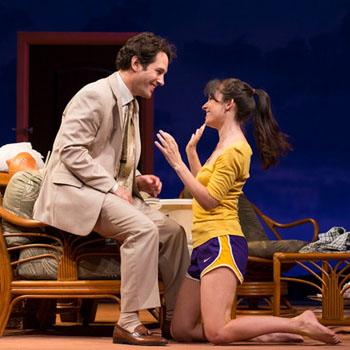 Look out below!
We've heard of bad reviews before but this is probably the worst. An audience member at Paul Rudd's Broadway play Grace delivered the ultimate negative opinion of the show, puking over a mezzanine railing.
As you might expect, "there was mass chaos for several minutes," one witness told the New York Post, adding, "but the cast played right on through, ignoring the disruption."
Article continues below advertisement
It is not known if the amateur critic had consumed alcohol or was suffering from an illness, although the Post's account quotes "spies" as saying, "it was very apparent that alcohol was to blame."
The unfortunate patrons of the arts who had better seats below the man who vomited, were helped to the restrooms, cleaned up (or at least the best clean up job possible in this circumstance).
Papers towels were offered to those who wanted to stay. (Um, yeah, no thanks, hard to imagine ANY Broadway play being good enough to sit through that.)
And in true show biz fashion, the show DID go on! Rudd was gracious at the end of the show and thanked the audience for sticking around.
Sometimes it does pay to buy the cheap seats.
RELATED STORIES: