A Mother's Hell: Reeva Steenkamp's Mom Details 'Traumatic' Experience Of Being 'Obsessed' With Oscar Pistorius, Murder Trial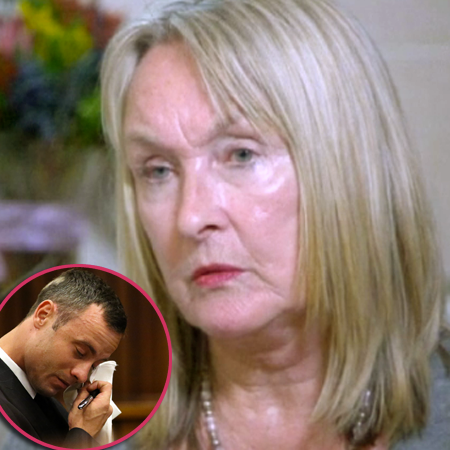 The character of Oscar Pistorius came under fire both in and out of the courtroom Thursday, as the mother of his slain lover Reeva Steenkamp opened up about why she's subjected herself to the horrors of his trial, while prosecutor Gerrie Nel publicly doubted the sincerity of the athlete's apology to the Steenkamp family earlier in the week.
June Steenkamp, speaking with the Mirror, opened up about her emotional state as she's sat in the courtroom pews during the murder trial of the 27-year-old Olympic runner, who she's kept an eagle eye on during the proceedings.
Article continues below advertisement
"It's very traumatic when certain things come up. This is my child and I must listen to the graphic detail," the grieving mother, who never personally met the accused murderer prior to the trial, told the publication. "I look at Oscar the whole time, to see how he is coping, how he is behaving. I'm obsessed with looking at him, it's just instinctive, I can't explain it.
"I keep thinking, 'Let me see how he's taking this.' He has been very dramatic, the vomiting and crying. I think he's just about keeping himself together. I don't know whether he's acting. Most of the time he's on his cell phone or looking down at papers or writing notes."
June Steenkamp, 67, said Pistorius' courtroom apology "left me unmoved," and that she's resisted empathetic overtures from Pistorius' relatives to try and smooth things over.
"It won't bring my daughter back -- we just want to know the truth."
She opened up to the paper about the tense nonverbal dynamic between her and the paralympian.
"My presence unnerves him, I'm sure of it -- he's answerable to me," she said. "He did eventually look at me: He looked at me and said, 'Good morning, Mrs Steenkamp.' I never answered, I just nodded my head."
Article continues below advertisement
"I don't know the man. All I know is what he's done. He must see me there in the court, he must feel my eyes boring into him, I think it makes a lot of difference. I do look at him too much, maybe. I like to see how he is reacting."
She said that seeing a picture of her daughter's remains after Pistorius shote her "wiped her out."
"It was just horrendous, I will see that picture for the rest of my life. Until the day I die, I promise you … I'm being strong for Reeva, I have to be there. It's hard for me to do it, but I'm representing my child.
"I'm there for her, as much as it's hell for me, I know that I have to be there, I'm compelled to be there."
She said Pistorius "has an aggressive persona" and is "used to having people adore him, so it must be pretty different for him now … he's gone from hero to devil."
Similar sentiments about the athlete's personality were echoed by Nel during Thursday's proceedings, as the prosecutor dismissed the aforementioned apology as a "spectacle" devised to garner sympathy.
Article continues below advertisement
Shocking Stories You Didn't Believe But Turned Out To Be True
Nel also cast a doubt on the tone of the romance between Pistorius and Steenkamp, noting they never told one another they loved each other over the hundreds of text messages investigators .
"Never to you and you never to her," Nel told the athlete, who replied -- staring at Judge Thokozile Masipa -- "I never got the opportunity to tell Reeva that I loved her."
Watch the video on RadarOnline.com
As we previously reported, should Pistorius be convicted of premeditated murder, he could be sentenced up to life with a 25-year minimum sentence. If convicted of murder, he could face up to 15 years in custody.
With no jury trials in South Africa, his fate rests in the hands of the judge.
In South Africa, where Pistorius had been acknowledged as a premiere sports superstar, the legal proceedings have been dubbed "the trial of the century"-- the same slogan media pundits in the states referred to the O.J. Simpson trial that began 20 years ago.