Rob Gronkowski Surprises Cerebral Palsy Wheelchair Bound Fan With Hand-Delivered Jersey During History Class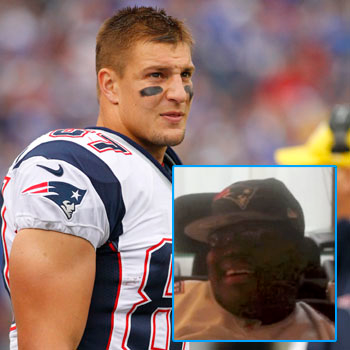 It was just another day at school for a wheelchair bound football fan while he anxiously awaited delivery of the replica jersey of his favorite player, Rob Gronkowski of the New England Patriots.
Expecting it to be delivered by a mail man or FedEx, Tawfiq Baity was blown away when the 6'6" tight end himself walked into his history class at Lockport High School near Buffalo to hand deliver the number 87 shirt, reported the Niagara Gazette.
Article continues below advertisement
"I was really happy and shocked yesterday; it was a complete surprise," said the 17-year-old, who suffers from cerebral palsy. "I've been a really big New England fan, and I really enjoyed seeing a Western New York native go into the big league. I enjoy seeing how good he is and enjoy his story," he gushed about the player from the nearby suburb of Williamsville.
"Tawfiq! I heard you needed a new jersey," called out the 265-pound, 23-year-old sports star when he barreled into room 270.
Baity was catapulted to Gronk's attention when he appeared in a "get-well" video that Lockport students produced for the record-breaking player after he broke his forearm last season. The fan footage has since gone viral with more than 20,000 views and has been seen all over the Boston area.
"I'm shocked!" The gobsmacked fan cried after Rob interrupted the class with his father, Gordy Gronkowski, and brother, Dan, a former tight end for the Cleveland Browns, during the surprise visit that was secretly planned by SWAGG (Simply Winning Applying God's Gifts), an organization that works to help the underprivileged and disabled.
Article continues below advertisement
Along with the coveted jersey, Gronkowski gifted Gronk Nation wristbands to the whole class.
"It's great, to give back to the community, make people's day," revealed one of Tom Brady's favorite targets on the football field. "I look forward to meeting Tawfiq again."
Baity didn't hold back on giving Gronkowski – who became the NFL's highest paid tight end ever when he signed a six-year, $54 million contract extension in 2012 – some good advice of his own.
"Take care of yourself in the offseason. You're young, you have a promising career," he told the Patriots star.
"And now I have to listen. He's cool and he just wants me to get healthy," Gronkowski responded to the concerned advice.
"Tawfiq needs a couple more Patriots fans around here. He has about one or two in the whole school. The rest are Bills fans," he laughed. "Hopefully we can convert a few!"
For the latest news on Rob Gronkowski and his football family, along with autographed memorabilia and exclusive fan merchandise, visit GronkNation.com.
radar_embed service=youtube src="https://www.youtube.com/embed/p07SdQlE0zY" width="560" height="315"