New Jersey High School Senior Comes Out To ENTIRE Class, Gets Standing Ovation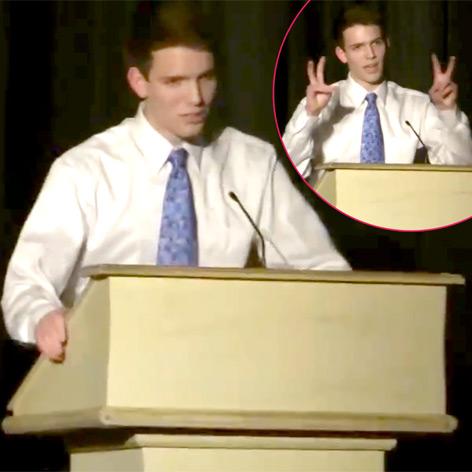 Jodie Foster may have confused some people with her rambling coming out speech at the Golden Globes recently, but not one teenager on the east coast, who may have taken a cue from the Oscar winning actress.
In a life changing -- and life affirming -- moment, Jacob Rudolph, a high school senior in Parsippany, New Jersey, bravely came out to his ENTIRE class during an awards ceremony last Friday, and RadarOnline.com has the inspiring video.
Article continues below advertisement
During his speech, Jacob, while accepting an award for Best Actor, surprised his classmates, teachers, and some parents who had attended the ceremony with his very personal admission – that he is gay.
"Sure I've been in a few plays and musicals, but more importantly, I've been acting every single day of my life," Jacob began.
"You see, I've been acting as someone I'm not. Most of you see me every day. You see me acting the part of 'straight' Jacob, when I am in fact LGBT. Unlike millions of other LGBT teens who have had to act every day to avoid verbal harassment and physical violence, I'm not going to do it anymore. It's time to end the hate in our society and accept the people for who they are regardless of their sex, race, orientation, or whatever else may be holding back love and friendship. So take me leave me or move me out of the way. Because I am what I am, and that's how I'm going to act from now on," he added.
At the end of his speech, the crowd rewarded him with thunderous applause and a standing ovation.
His father Jonathan, who uploaded the original video to Facebook, describes his son's decision to come out as "taking more guts than anything I've ever attempted in my life."
youtube