Bullied 12-Year-Old Tourette's Sufferer Turns The Tables By Becoming A Motivational Speaker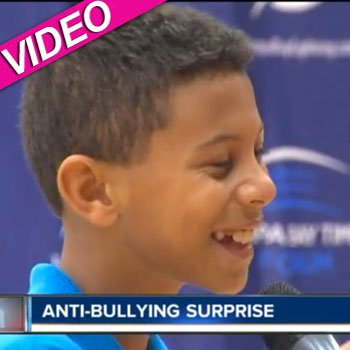 By Debbie Emery - RadarOnline.com Reporter
Growing up, Tourette's Syndrome sufferer Jaylen Arnold was tortured by cruel tormentors who teased him, called him names and mimicked his uncontrollable movements and outbursts.
Rather than letting it get him down though, the boy from Lakeland, Florida, allowed the bullying to make him stronger, and at the grand old age of 12 he has made his name as a motivational speaker and anti-bullying crusader.
Article continues below advertisement
The special needs student from Victory Christian School now travels around the country promoting his foundation, Jaylen's Challenge, to help other kids going through the hell that he endured, reported ABCActionNews.com.
On Tuesday, the inspiration to bullying victims got to act like a kid again when he was surprised by his sporting idol, NHL star Dave Andreychuk of the Tampa Bay Lightning, who presented Jaylen with his own hockey jersey and lauded him with congratulations at a job well done.
"He's got a lot of courage to stand in front of his peers and talk about those things," said Andreychuk. "For us, its a no-brainer. He's a kid who is well deserving of our community hero."
The jersey wasn't the biggest surprise for Arnold, he was overwhelmed when they also gave him a $50,000 check from the Community Hero Program funded by Jeff Vinik, owner of the Lightning.
"I'm just really impressed with what Jaylen has gone through, and how he really wants to make the community a better place and say, you know, what happened to me doesn't have to happen to others," said Elizabeth Frazier, Executive Director of the Lightning Foundation.
Article continues below advertisement
"That was so shocking," gushed Jaylen, beaming happily after the presentation. "That was so amazing! That was so cool. He gave me the jersey and the check. This is going to help Jaylen's Challenge a lot."
RELATED STORIES:
Stodden Was Bullied! Couples Therapy Doctor Attacks Castmates 'Courtney & Doug Are Human Beings!'
Bullying Drives Two Students In Same School To Attempt Suicide
High School Praises Football Players Who Helped Special Needs Bullied Teen: 'They've Really Taken Her Under Their Wing'
Brandi Glanville Turns From 'Bullied' To Bully: Brands New Housewife Yolanda Hadid A Slut!