Melissa Gorga To Teresa Giudice: Joe Gorga Is Not 'Whipped' -- It's Called A Healthy Marriage!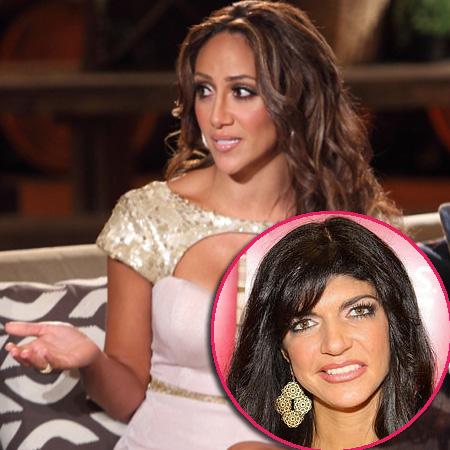 Melissa Gorga has an answer for her sister-in-law Teresa Giudice, who accused her brother (and Melissa's hubby) Joe Gorga of being "whipped" during their vicious verbal exchange at the gym on this week's edition of The Real Housewives of New Jersey.
"Is there a more obnoxious phrase than 'p**** whipped?'" Melissa writes in a new Bravo blog. "I'll die saying that a man who treats his wife with respect, who is loving, supportive, and faithful, and who comes home every night is NOT p**** whipped.
Article continues below advertisement
"In my book, that man is a king and his wife is his queen. My marriage is strong because of our mutual respect and devotion to each other. Joe and I have the relationship I always fantasized about since I was a little girl."
Melissa defended her husband's aggressive stance toward his sister during the fight, calling out Teresa for her immature actions when she could no longer use words to make her case.
"During their conversation at the gym, Joe stayed calm … Teresa freaked out, threw water, flipped a trash can and stormed out," Melissa writes. "He gave her a taste of her own medicine, and she did not like it."
As far as Teresa's accusation, in a recent blog, that Melissa was publicly exploiting her parents, Melissa said it's just another in the litany of offenses Teresa's accused her of that haven't panned out.
Article continues below advertisement
"On Season 3, she mocked my music and called me a gold digger," Melissa said. "On Season 4, she said I'd leave my husband for a richer man and I was questioned by her about being a stripper. We already know I'm a bad daughter-in-law.
"I don't know how many more negative things I can be accused of. It's as predictable as the tides."
But despite the never-ending strife between the clans that seems to keep ratings high and the reality stars relevant, Melissa said she wishes "all of these relationships can be repaired, or that they can call a truce and be civil.
"As you can see, this family does hold grudges. Some people get so used to holding the grudge it seems easier to cling to it rather than laying it down to rest."
We doubt there will be any rest when The Real Housewives of New Jersey returns Sunday on Bravo at 8/7c.
radar_embed service=bravotv src="http://www.bravotv.com/video/embed/?/_vid2656300" width="400" height="225"