Teresa Giudice: 'Not Seeing My Brother And His Family Was Heartbreaking'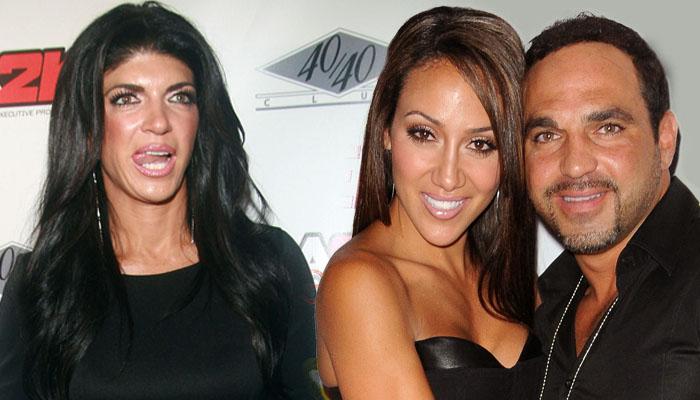 Teresa Giudice has changed her tune for this season of The Real Housewives of New Jersey. Based on her own words, she no longer wants to continue to fight with her sister-in-law, Melissa Gorga -- and wants to try
to bring their families back together.
"Not seeing my brother and his family was heartbreaking, but after what Joey and Melissa said at the reunion — that they were moving and didn't want to have anything to do with me or my kids — what could I do?" Teresa wrote in her June 2 Bravo Blog.
Article continues below advertisement
"I had to respect their wishes and give them space… I just concentrated on my own family, on my girls, and prayed that they would find their way back to our family."
Teresa credits Hurricane Sandy for helping her see the situation differently.
"Hurricane Sandy hitting New Jersey was the first thing that started to bring us all closer together," she said. "When the hurricane hit, it was bad. Scary bad. The storm itself was terrifying and the destruction left behind was unbelievable. Everyone was affected in some way."
She added, "When you know your friends and family are hurting, when you live through this giant natural disaster, little things like who said what don't matter any more."
So during the premiere episode of Season 5 on June 2, Teresa suggested that her daughter Milania, 7, invite Melissa's daughter, Antonia, 7, over for a play date — and the play date acted as the first step in reconnecting the two families.
"I was so happy to get Milania and Antonia back together for the first time in over a year!" Teresa said. "I hope they are never, ever separated ever again."
After all the fights fans watched during Season 4, Teresa promises that this season, the Gorgas and Giudices are going to finally reach a happy place.
"I'm so happy myself right now and I can't wait for you all to see how we got there," she said. "It was a long road with lots of ups and downs, but if we can do it, anyone can!"