Teresa Giudice Furious Melissa Gorga Disrespected Her Father: 'She Uses My Parents Publicly'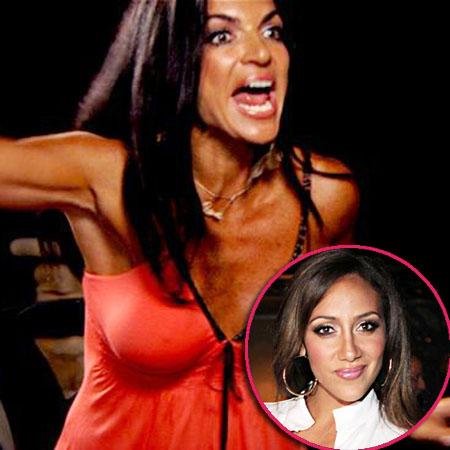 Article continues below advertisement
Teresa is upset that Melissa disrespected her parents.
"You can't be best friends with everyone," she explains. "But I just can't stand by when she uses my parents publicly."
Melissa is like a daughter to Teresa's parents, so Teresa feels like Melissa should have gone to the hospital to see her dad.
"She doesn't have her own dad around, so my dad has tried to be her dad for 8 years now," Teresa says. "I personally think that deserves a drop-everything when you hear 'our' dad is in the ICU."
She continues, "I think out of respect you could visit him the first day... or two... or three... or at the very least call him and tell him why you can't come, but that you're thinking of him, praying for him, and love him."
Teresa claims that her father asked about Melissa while he was in the hospital: "I was there when he worried that he hadn't seen or even heard from Melissa or her kids."
And that it was an insult when Melissa didn't visit the first few days.
Article continues below advertisement
"You have to remember my dad is off-the-boat old school. Respect is a big, big deal to him," Teresa says. "After 8 years, Melissa knows that. She knew what it would mean for her to not go. So for her to show so little respect — not to see him for 4 days when he's in the ICU, to only stop by 1 time for 1 hour total when he was in the hospital for a week — that really stood out to my parents. "
Teresa insists that she would never act like Melissa if the situation had been reversed.
"When I was first married, my mother taught me that no matter what was going on between my husband and his family, you always love and respect your in-laws," she says. "And I'll teach my daughters the same thing."
In the end, Teresa feels that Melissa is a hypocrite.
"She says family is everything to her, but it doesn't seem like from her actions that she includes the Gorgas as her family," Teresa states.