Birthday Party Blowup For Melissa Gorga And Teresa Giudice On RHONJ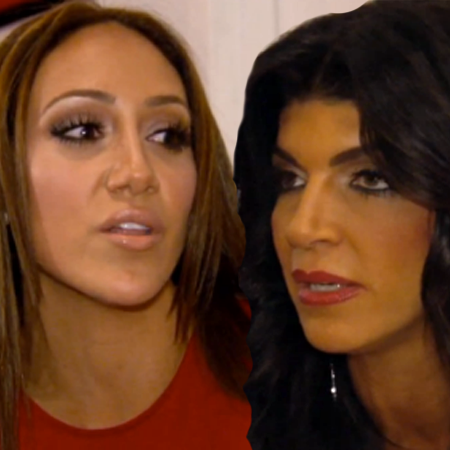 Melissa Gorga stormed out of Teresa Giudice's 12th birthday party for her daughter Gia in the latest battle in the long-running family feud.
Viewers saw the fireworks on Sunday night's The Real Housewives of New Jersey after Teresa's brother Joe Gorga decided not to go to the party and wife Melissa went instead -- but got ambushed by her sister-in-law and her friends. Teresa and her posse accused Melissa of not visiting Teresa and Joe's father after he was rushed to the hospital for pneumonia in his latest medical crisis.
Article continues below advertisement
Although Melissa insisted that she HAD visited her father-in-law in ICU, Teresa called her a liar and said she certainly didn't go the next day, as she claimed.
"I don't want to hear I don't go visit my father-in-law. It's between me and my husband," Melissa said. "Maybe you're ghost who was there," Teresa sneered, adding that she should give the Gorga parents the respect they deserve! Under Teresa's barrage of accusations -- and those of her venomous friend, Kim D., Melissa was sent fleeing from the party!
"Thank you for having us. We're going to go," Melissa snapped to Teresa. "This is gross at a birthday party!"
The birthday girl, Teresa's daughter Gia, sadly said she didn't want to see her mom and aunt arguing. "I hate this," Gia sighed.
Teresa seemed to care more about being right than pleasing her daughter, maintaining Melissa lied and it took her four days to see her father-in-law. "There's no need for her to run home to her brother," Teresa said. "I can't even ask her a question?"
Article continues below advertisement
Melissa shouted, "Discuss this with your brother! Take me out of this conversation!" And then, as she drove her kids away, Melissa told them, "The party's over. Let's go home."
Although Teresa and Melissa took center stage, also in the episode, RHONJ fans saw some lighter moments such as Jacqueline and Chris Laurita's son, Nicholas, getting a hyperbaric chamber as therapy for his autism. Chris told Joe Gorga, who was visibly moved watching Jacqueline and Nick climb into the device, that the boy would use it a few hours a day. As RadarOnline.com previously reported, Nicholas said "I love you" to his proud mommy in last week's episode and is continuing to make progress in his battle with autism.
radar_embed service=bravotv src="http://www.bravotv.com/video/embed/?/_vid2653482" width="400" height="225"
Meanwhile, Kathy Wakile's sister, Rosie, taught nephew Joseph Wakile how to drive his father's red ferrari.
"I want to be the fun aunt," she said, encouraging Joseph to cut aggressively through traffic. "Get your a** out of the car!" Kathy said when they got home, while Joseph's dad Chris quickly calmed down and put his arm around his son. Kathy said she was tired of being the bad cop.
Article continues below advertisement
"I don't want to be there," Joe told Melissa about Gia's party. "I"m not ready right now for my sister."
Left to go solo with their kids, Joe encouraged wife Melissa to stand up for herself against Teresa and Kim D. But as it turned out, she couldn't even stay to see her niece open her presents!
Next week on RHONJ, it appears there's more Melissa madness to come. In a tantalizing preview for the next episode, Melissa talked about writing an advice book about marriage--and confided a shocking family secret that her own father was a cheater. Stay tuned!