'RHONJ' Star Melissa Gorga Compares Teresa Giudice's Birthday Party Interrogation To An Episode Of 'Law & Order'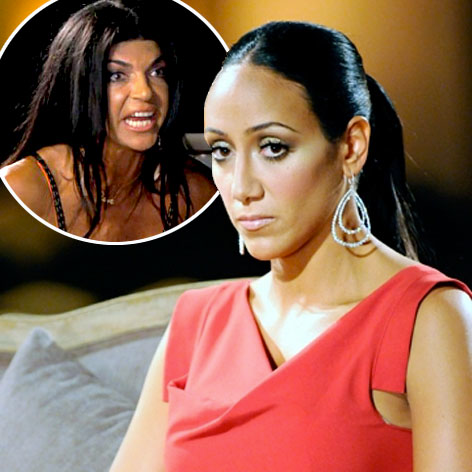 Article continues below advertisement
"On Saturday, I took the kids to Gia's birthday party, where I was put under a microscope by people I barely knew about the minute-to-minute breakdown of my whereabouts," Melissa writes in her June 17 Bravo blog. "It was like being on Law & Order, with the cops grilling me, 'Where were you on the afternoon of the 12th?' Why couldn't we just enjoy the party?"
Melissa thinks that the women weren't really concerned about her going to visit her father-in-law, but were just trying to gang up on her.
"The issue was never about whether or not I was showing the proper love and respect to our sick family members," she says. "At the time, it felt like the only issue was how these ladies could pick me apart and try to convince everyone that I'm a terrible daughter-in-law, wife, mother, and human being."
Melissa attended the party to celebrate her niece's birthday — not to get into a fight.
"I was totally caught off guard," she says.
Article continues below advertisement
And Melissa is confused as to why Teresa's friend Kim D. involved herself in a family situation.
"Why this piece of information was so crucial to Kim D.'s sense of well-being will remain a mystery to everyone but her," Melissa notes. "She seemed personally offended, as if my father-in-law was her own flesh and blood."
Melissa believes that it wasn't Kim D.'s business to get involved in the drama — and that wasn't even okay for Teresa to stick her nose in it either.
"Teresa made it her business to find fault with whatever I did," Melissa says. "My in-laws are Joe's parents. He's my husband. It's up to Joe to say when his wife goes to the hospital — not his estranged sister. "
Melissa claims that she is done letting Teresa treat her so poorly.
"I've been walking on eggshells with her for ten years now, and my feet are killing me!" she says. "It's not easy feeling like I have all eyes on me at all times. A girl can start to get paranoid. But this episode proves: It's not paranoia if it's true!"
But despite the fight that went down between the women at Gia's party, Melissa promises that all of the Gorga-Giudice back-and-forth will soon come to an end.
"I bet you feel like there is no way that we are ever going to work this out?" Melissa says. "But keep watching!"