'I Was Confused': Teresa Giudice Questions Why Estranged Brother Joe Sent Caroline Manzo To Fix Fractured Relationship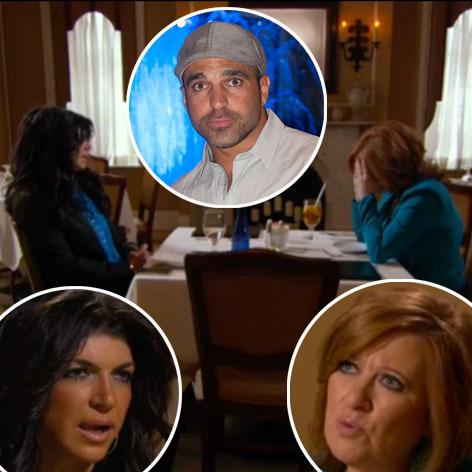 Article continues below advertisement
"I didn't mean he was 'scraping the bottom of the barrel' as a personal insult to her, it's just that if Joey wanted someone to be a go-between for us, why would he ask someone I wasn't in a good place with?"
Teresa was also confused as to why Caroline had come up with the idea of talking to her about her family problems when Caroline can't even fix her own problems with her sister Dina Manzo.
"Then she said it was her idea to talk to me for Joey," Teresa says. "That didn't make any sense to me either, since unless she had figured out some magical way of fixing her own problems with her siblings, she didn't have any more answers than I did."
Teresa claims she brought up Caroline and Dina's issues in the hopes that Caroline had a view on how Teresa could make peace with Melissa and her brother Joe.
"I didn't ask her about her family to start a fight," she says, "I just wondered (and was hoping) that's why she thought she could fix my family."
But then Teresa viewed the whole Caroline meet-up as Caroline's attempt at settling her own differences with Teresa.
Article continues below advertisement
"Then I decided that maybe this was her way of trying to reach out to me, sort of her way to apologize for last year," Teresa explains. "I'm glad I met with her, she did look good and the place we met was adorable."
After Teresa and Caroline's lunch meeting, it sounded like Teresa was finally on her way to make peace with the Gorgas. But during the same episode, the Gorgas were trying to sell their house -- and Teresa thought that they were trying to sell the house so that they could get away from her and her family.
"Of course it was very hard to see Melissa say (over and over and over) how she was moving because she didn't want her kids to grow up near my kids," Teresa admits.
But Joe's wife Melissa Gorga says she didn't first place her house on the market because of her fall-out with Teresa.
"I know the perception out there is that we're doing it for one reason: to get away from the Giudices," Melissa writes in her blog http://www.bravotv.com/the-real-housewives-of-new-jersey/season-5/blogs/melissa-gorga/melissa-on-moving?page=0,2. "But the truth is, we put our house on the market months before strippergate."
Article continues below advertisement
Melissa then took the house off the market because the economy was bad. But then when the fighting began, she relisted the property.
"It was a bad time to sell though because of the economy, so we took it off," she says. "When all the drama of last season started happening, we decide to put it back on."
And Melissa wanted their broker to sell the house quickly so that her daughter Antonia, 7, could move to a new school while she was still young.
"The reason I pushed our broker Jerry to sell 'now or never' was because of Antonia," Melissa shares. "I didn't want her to have to switch schools in a higher grade. I know from personal experience that it gets harder to make new friends the farther along you are. I just think the sooner she gets settled into a new school, the better."
The fighting between the two families just made Melissa's decision to move a little easier.
Article continues below advertisement
"The drama with the Giudices was the final push to get us serious about moving," she says. "It seemed like the right thing at the time."
And despite Teresa's story that Melissa used her blood to get Joe to sell the house, that's just not the case. Joe wanted to sell the house as much as Melissa did.
"On the episode, it comes off like Joe didn't want to sell and agreed to it only because of me," Melissa says. "Some people might believe I gave him my blood to put him in a house-selling trance. That's just gross! Joe wanted to put it on the market as much as I did—and to get a good price."
Melissa adds, "To my Joey Michelangelo, our house is a work of art. He's in the business. He knows what it's worth."