Exclusive
'RHONJ' Make-Up! Kathy Wakile Says She And Teresa Giudice Are 'Better Friends Now'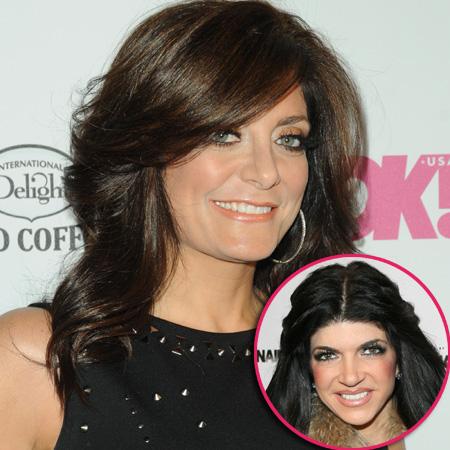 Article continues below advertisement
It took a lot of hard work, though, to repair the fractured relationship.
"We did a lot of talking, communicating, shared a lot of feelings to one another and understanding each other's feelings because when we're not listening to each other, it's very easy to misunderstand what you are saying," Kathy explains. "We really listened to each other."
Caroline Manzo, who always acts as the peacemaker in the group, helped not only Kathy, but everyone else in the cast to get to a better place.
"Caroline has been a good friend to all of us," Kathy shares. "And you need someone who isn't maybe so emotionally involved to try and bridge that gap."
While it might have been tough for Caroline to get involved, she knew she had to help out.
"It must not have been easy for Caroline either," Kathy says. "It's like that first step and saying, 'Okay, you know what? I want to help, so I'm going to put whatever differences, whatever my reservations are, put them aside. I'm going to take one and I'm going to try and go out there and help.'"
Article continues below advertisement
That's exactly what Kathy says happens this season: the housewives work on getting over their issues.
"I'm looking forward to seeing the stages that our relationships go through because we have come to a better place," she states. "To see it happen all over again will just kind of reinforce our feelings and hopefully we will be able to maintain that by watching our discussions all over again."
But RHONJ wouldn't be a show if it didn't have a little bit of drama in it.
"Whenever you get five ladies together, whether you are friends or you're adversaries, you're always going to have drama," Kathy says. "There's always drama on a daily basis. Five women with five different personalities, their own families and their own spouses, there's always going to be some sort of drama."
She just hopes if the cast films another season that the drama maybe will not be "as dark" as it has been in the past.
"You'll be very pleasantly surprised that we have to go through a lot to get to that place," Kathy says.