Exclusive
Teresa Giudice Vs. Melissa Gorga: The War Rages On With Bitter Fighting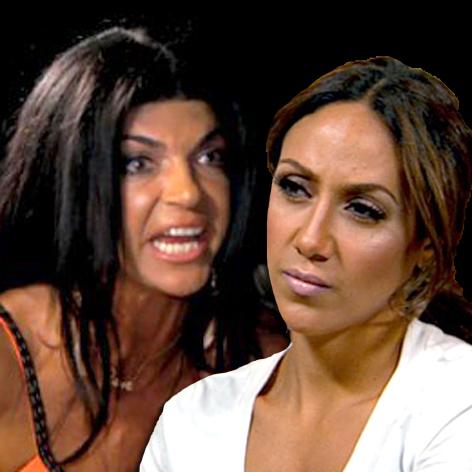 Teresa Giudice's bitter feud with Melissa Gorga is raging on television as the women try and act civilly to each other but RadarOnline.com has exclusively learned that the war is far from over, and is even escalating with friends and family getting dragged into the mess.
The Real Housewives of New Jersey stars are shown making amends on the show, which was filmed months ago, but in real life they're anything but friendly.
Article continues below advertisement
"Teresa is so desperate to look good that she's surrounding herself with people to do her dirty work for her," the source told RadarOnline.com.
"She doesn't want people to know that she is still waging a war with Melissa so she's letting other people do the bad trash talking for her." Teresa's 12-year-old daughter Gia Giudice has even been dragged into the fray and is defending her mom online, writing: "I'm old enough to know what's going on. My mom is an amazing mom. You can say what u want but my mom is a wonderful mom!!"
While Gia's mom is being fairly quiet, the source said she's getting other people to continue her fights and bad feelings. "Teresa knows that she can't keep saying bad things herself, so she's letting other people do that. She's trying to say she's in a good place with Melissa and her brother but if she's in a good place then why is she having other people say bad things about them?
Her best friend Heather gave an interview about Teresa and Melissa and is tweeting nasty zingers about Melissa and Joe, which little Gia is retweeting."Teresa is just relentless in her mission to make other people miserable but not let them find out she's the one doing it," the source said.
The Real Housewives of New Jersey airs Sundays on Bravo at 8/7c.