Matt Damon Returns With More 'Jimmy Kimmel Live' Hijinks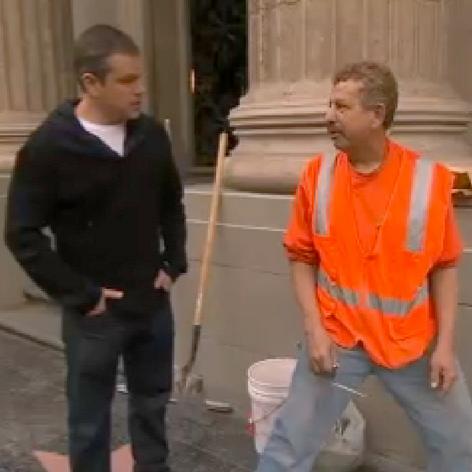 Matt Damon's take-over of Jimmy Kimmel Live continued for a second night Friday, with the actor talking smack to the late night TV host's Hollywood neighbors.
Damon first chats to the workman who is installing Kimmel's star in the Walk of Fame, adding a piece of his own belly button lint to the project!
The woman who runs a nearby dry cleaner gets a hug from Damon after telling the Contagion star she won't hang a picture of Kimmel in her store because he told her she smells.
Article continues below advertisement
And the driver of a Hollywood tour bus swears that Kimmel often jumps on her van, offers to show her a " star" and "then points to his private area!!!"
Is this anyway to be a good neighbor?
You can watch the skit here and judge for yourself.