Matt Damon On Not Denying Rumors He And Ben Affleck Were Lovers: 'I Didn't Want To Offend My Gay Friends'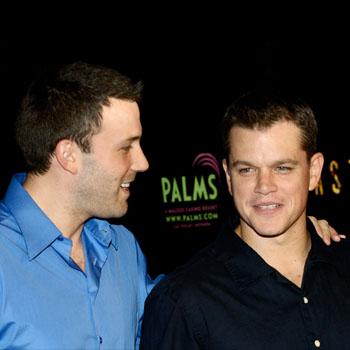 They have been swirling around him ever since he and best friend Ben Affleck starred in the 1997 movie Good Will Hunting.
Now Matt Damon is finally addressing the rumors that he is secretly a gay man refusing to come out of the closet.
In an interview with Playboy the 42-year-old says: "I never denied those rumors because I was offended and didn't want to offend my friends who were gay – as if being gay were some kind of f**king disease.
Article continues below advertisement
"It put me in a weird position in that sense. The whole thing was just gross."
Damon recently finished filming the HBO movie Behind the Candelabra, which explores Liberace's life with his young lover Scott Thorson. Michael Douglas plays the flamboyant pianist and the two actors haven't shied away from kissing onscreen.
Damon says: "We both have a lot of gay friends and we were not going to screw this up or bulls**t it.
"It wasn't the most natural thing in the world to do, though. Like, for one scene, I had to come out of a pool, go over to Michael, straddle him on a chaise longue and start kissing him.
"And throughout the script, it's not like I kiss him just once. We drew it up like a football plan."
Damon says he picked up tips about kissing a man onscreen from the late actor Heath Ledger who played a gay cowboy in the Oscar-winning film Brokeback Mountain. Ledger told him he "drank a half case of beer" before kissing Jake Gyllenhaal, his love interest in the film.
Article continues below advertisement