Kardashian Sisters Hit A New Low With 'Privates Smelling Contest' — You Have To See It To Believe It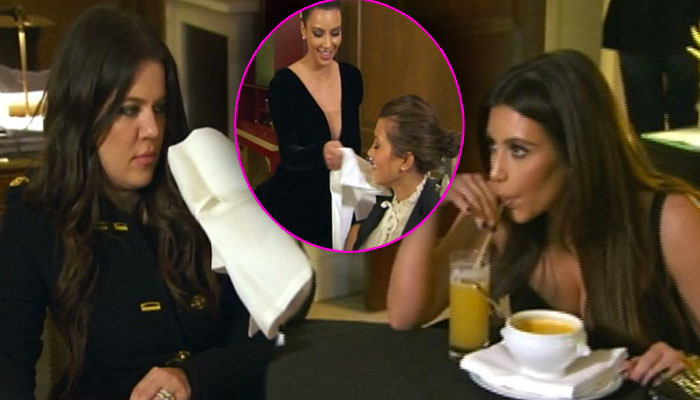 On Sunday's Kourtney and Kim Take Miami, Kim Kardashian and Kourtney take things to a whole new reality TV low after they clash over a question we're sure has been on the forefront of everyone's minds …
WARNING: Content of post is explicit — and will likely make you feel at least slightly uncomfortable — proceed at your own risk!
Who has the better-smelling private parts?
Yep. Really.
Thankfully, little sister Khloe is on hand to officiate over this vital matter and we soon learn the answer.
Article continues below advertisement
It all starts after Khloe drops a tidbit that pineapples help a woman's private parts take on a "sweeter" odor, which leads her sisters into a spirited debate about whose "bits" have the better smell: Kourtney, the mother-of-two, or Kim, who was with high-profile studs like Reggie Bush, Kris Humphries, Miles Austin, and of course, Ray-J, before getting pregnant with Kanye West's baby.
Testing the theory, the sisters drink pineapple juice to prepare for the compelling conclusion to the sibling sniff-out of the century.
Still with us?
"If I'm going to win this I need to get as much pineapple juice as I can … it makes the vag smell good," Kourtney declares.
"Kourtney seems very competitive about her vagina," Kim notes. "I don't know why Kourtney is challenging me -- but she will lose!"
As for the judging honors, the task went to the (lucky) person who was deemed to be the most impartial: Khloe — of course!
Thankfully, to avoid yet another Kardashian sex tape-type leak, Kim and Kourtney used cloth napkins smeared with the musk of each other for Khloe to judge.
Article continues below advertisement
"Do I want to be the judge of the pineapple p***y?" Khloe rhetorically asks. "Not really, but we're sisters … if I can't smell their p***ies, what else am I supposed to do?"
When it comes time to judge, Khloe decides that Kourtney's scent "was like a tropical island," and likens Kim's to "a flower p***y."
STILL with us?!!!
If so, you obviously are dying to know - and the winner is …
"Honestly, I will say that Kim's p**** smells the best - she's the kitty winner," Khloe rules.
Kourtney doesn't seem too fazed by the loss though, "If Kim needs to think she's won, then fine, I'll let her think that - but we all know whose vagina is the sweetest of them all," she vows.
The world can sleep easier at night now…..
Kourtney and Kim Take Miami airs Sundays on E! at 9/8c.