Kim Kardashian Admits, 'In A Perfect World I Would Love To Be Divorced' From Kris Humphries Before Having Kanye's Baby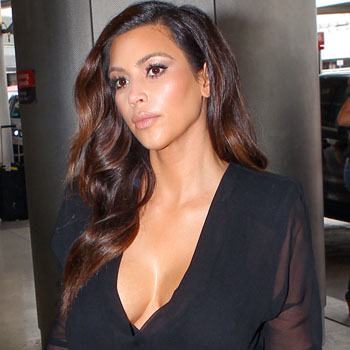 Article continues below advertisement
"In a perfect world of course I would love to be divorced," Kim, who dominated the interview, admitted when asked about the scenario. "It is going on its second year. And that's really tough just because I want to move on with my life."
Kim, who opened up about her fertility problems for the first time during an interview with TODAY on Tuesday, is upset that people have such a problem with her situation.
"When people say things like why are you having a baby when you're married to someone else… If someone really knew all the fertility problems and the things that I was going through," Kim said. "God brings you things at a time when you least expect it. I am such a planner and this was just meant to be."
She continued, "What am I gonna do? Wait years to get divorced? It's such a process. Technically we are legally separated."
Article continues below advertisement
When asked about Humphries' thoughts on the divorce, Kim denied that there was any fraud involved in their union.
"I can't really speak like for him. I think the facts are I filed for divorce, he is suing me for an annulment and the only legal way to ever get annulment if there is fraud involved," she said.
"He is claiming that I frauded sic him to marry him for publicity. For me, who would ever do that? It's just not who I am?"
Kim maintains that she did, in fact, love her husband, and that she ended the relationship because she realized that he was not the right person for her.
"He was someone that I loved a lot but you can love someone a lot and then realize they are not the right person for you," she insisted. "And I would have rather ended it when I felt that way then waste a year of my life not being happy. For him too."
Article continues below advertisement
She was also aware that her actions would not go over well in regards to her public image.
"I knew the whole world was going to bash me. I knew that. And I said to myself, 'What is more important? My life and my happiness or what the whole world thinks about me?'" Kim concluded.
"That would be vain. That would be fake. That would be doing it for publicity. I could have stayed married."
radar_embed service=youtube src="https://www.youtube.com/embed/jzWfzmrsKu0" width="560" height="315"